Stauffers Market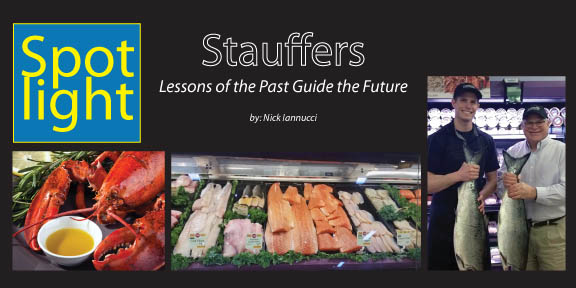 Stauffers Market
Lessons of the Past Guide the Future
by: Nick Iannucci
Stauffers of Kissel Hill is a local family owned business consisting of three supermarkets and eight home & garden stores located in Central Pennsylvania. The company traces its roots back to Roy Stauffer Jr. who in 1932 opened a fruit stand along the Lititz Pike on the south side of Kissel Hill. He understood the success of his business would depend upon his reputation. To that end, he instilled two basic core values that have guided Stauffers: provide fresh products and conduct business with honesty, integrity, and respect.
Stauffers started offering fresh seafood 30 years ago through special customer orders only. They focused on the basics; perch, flounder, and haddock, and would portion and package all their seafood in-house. They have since evolved to include a full-service seafood department that now offers a variety of products; everything from head-on fish to hand carved fillets along with frozen products and prepared foods.
Having a strong partnership with Samuels and Son Seafood, Stauffers has grown this section of the business and has built on their reputation for having the freshest seafood. Samuels has worked with them to deliver seafood six days a week. Plus, Stauffers is now able to offer their guests an expansive seafood collection thanks to the vast variety of Samuels' seafood offerings.
The variety Stauffers can get from Samuels is also helping them stay on the cutting edge of seafood trends. In the 30 years since they started offering fresh seafood, they have noticed a steady increase in demand for both quality, variety, and sustainable seafood. Additionally, shoppers are pressed for time like never before and no longer have the luxury to spend 45 minutes shopping; they want to get in and out as fast as they can.
To better serve their busy guests, Stauffers has started offering a wide range of meal solutions. Ready to serve seafood items include seafood salads, savory soups, tangy Orange Marmalade with Salmon, delightful Crusted Tilapia, Scallops and Sun Dried Tomatoes Cake, and a zesty Pesto and Dijon Salmon. Stauffers applies the same great care standards to create their prepared foods as they hold their other fresh items to.
Freshness has been a priority to Stauffers since its founding. But the other ingredient to the success of the business should not be overlooked: honesty, integrity, and respect. For them, these values form the very core of their business ideals and how they conduct themselves. They pervade every action they take and every decision they make.
Now under the third generation of family ownership, the business remains true to the lessons of the past while being poised to evolve in the future. The lessons learned from Roy Sr. and the second generation of ownership have proven to be a winning formula for success. Some are directly related to how you conduct business; for example, providing a consistent product is a must and, perhaps more importantly, business should be conducted in an upstanding manner.
Other lessons transcend business and explore areas of life in general. Every past generation had a love and passion for the business. They truly enjoyed what they were doing and it showed through in their hard work and dedication to the craft. This passion found a partner with an equally important love: spending time with family. No matter how much they loved the business, the earlier generations loved their family and made sure they knew it. This dual dedication has served as a platform to pass down the love and passion for Stauffers of Kissel Hill from one generation to the next.
Honesty. Integrity. Respect. These three little words have led Stauffers through three generations of family ownership and helped them evolve from a fruit stand on the side of the road to a full service grocer. Remembering these values, Stauffers of Kissel Hill is poised to provide fresh groceries for generations to come.