Texas Gold Shrimp: as Good as Gold

Texas Gold Shrimp has been in operation since 1977, but the story of this family business started in 1952 with the Zimmerman family and their boat repair shop: Marine Mart. This is where their history and passion for Shrimp all began.
At the shop, the family acquired a shrimp boat after years of repair work. From that moment, they expanded into Shrimping. The grandfather was an engineer, so he began to design and build his own Shrimp boats. They built almost 300 boats between 1960 and 2000 and many of these designs are still used today. Currently, they have the largest fleet in the Brownsville/Port Isabel, TX area and the most fuel efficient fleet in the Gulf of Mexico with boats that use at least 20% less fuel.
The Zimmerman family has innovated the Shrimping business in Texas and is now taking the Shrimp world by storm with their premier product, Texas Gold. It's because of the passion and commitment to doing things better that makes for such a high quality product. It's truly as good as gold.
Each package of Texas Gold contains beautiful brown Shrimp with a full-bodied, amazing flavor. The taste is fresh and clean with lovely notes of richness and sweetness. Because they own their own boats, label, and oversee every aspect of production, Texas Gold delivers consistent and delicious Shrimp every time.
The quality and consistency of Texas Gold starts with the care and attention to detail the boat crews put into handling the Shrimp once it is caught. To ensure every Texas Gold Shrimp is the highest quality, they are very quick and careful. The Shrimp are headed on the boat, as soon as they are caught, which results in a cleaner tasting Shrimp. And then they are frozen onboard at their peak of freshness.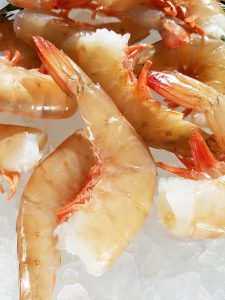 Texas Gold doesn't cut corners; they treat each Shrimp like gold. During freezing, they protect their Shrimp in rigid, plastic baskets rather than large Shrimp sacks. This allows for fewer defects and broken pieces and also more even distribution. This even distribution helps the Shrimp to freeze more quickly and efficiently so that you receive only the freshest Shrimp straight from the Gulf.
When the boats return to the docks, the trained staff carefully unload and weigh all Texas Gold Shrimp. Once complete, all Texas Gold Shrimp are loaded onto trucks and delivered to the packaging facility in Port Isabel, TX.
All Texas Gold Shrimp are processed at this one facility and there are strict specifications about what goes into each package. Texas Gold Shrimp goes through three separate quality control checks during the grading and packaging process and there is a Texas Gold employee overseeing all operations. This is because Texas Gold is very particular about what is placed in the package and wants to provide only the best Shrimp.
Texas Gold is focused on quality. From the way the Shrimp is handled on the boats, to the way Texas Gold is packaged; they do everything possible to ensure Texas Gold is really as good as gold.
Available year-round in multiple sizes including; U–12, U-15, 16/20, 21/21, 26/30, 31/35, 36/40, 41/50, and 51/100.