The Secret of Oysters Rockefeller: A Tough Shell to Shuck

At Samuels, we can't get enough Oysters! They make for the best soups, salads, and stuffings, and they taste amazing grilled, broiled, fried, or simply served raw on ice. However, one preparation will always have our hearts: Oysters Rockefeller. And today, January 10th, just so happens to be National Oysters Rockefeller Day!
This briny, savory dish with cooked mixed greens, bacon, and a bit of crunch is both a delicious and mysterious treat. That's right, the original recipe is a closely guarded secret and every re-creation of this dish has been just an assumption.
Created in Antoine's in New Orleans, Louisiana in the late 1890s, no other American meal has received such high acclaim. Jules Alciatore, the son of the founder Antoine Alciatore, set out to satisfy American diners taste for something new. One of the restaurant's most popular dishes had been Escargot Bourguignon – Snails in a sauce of butter, garlic, minced shallot, brandy, and chopped parsley. But the popularity of Snails had decreased and procuring this French delicacy was getting difficult.
He wanted to use a local product instead, so he chose Gulf Oysters and adapted the Snail recipe in 1899. From then on it was history. Jules Alciatore is even accredited as the first chef to served cooked Oysters. This new dish was later named after John D. Rockefeller, because of its rich flavor and bright green color. But what's in it? Some people say there may be as many as 18 different ingredients.
What's clear is that the richness partly comes from an abundant amount of butter also used in the original Snail recipe and an herby leafy green base is still used. Some people speculated that Alciatore substituted the parsley from the original with spinach (and many attempts to reproduce the recipe use spinach) but one thing that the restaurant has confirmed is that there isn't any spinach in it.
In 1980, Roy F. Guste, Jr., the great-great grandson of Jules Antoine, wrote in his book Antoine's Restaurant Cookbook that "the sauce is basically a puree of a number of green vegetables other than spinach."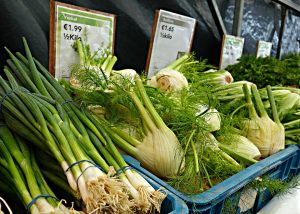 Many other chefs have long speculated that the original recipe was made with watercress, not spinach, because of the edgy bite that crisp watercress offers. Other chefs have theorized that the mixed greens might be celery leaves and herbs such as fennel, chervil, or tarragon.
Then there's a question whether alcohol was used. A true Rockefeller is bold and strong, which leads many to believe that alcohol was used to bring out more flavor. While there's no brandy in Oysters Rockefeller, the addition of anise-flavored liqueur to enhance the green herbaceous flavor, is a generally accepted idea in the chef community.
Many recipes call for Herbsaint, an anise flavored spirit, but some argue that this is a more modern addition, since Herbsaint did not exist when Oysters Rockefeller was invented. However, Pernod, another anise-flavored spirit, did exist, and it's likely that Herbsaint was offered later because it was less-expensive. However, because of its popularity during the time period and the color, people tend to agree that absinthe is a strong possibility.
The most popular consensus on the original list of ingredients would read; absinthe, butter, bread crumbs, fennel, garlic, parsley, scallions, and watercress. But in 1986, a laboratory analysis was conducted to attempt to reveal the original recipe. The results stated that the sauce contained parsley, celery, scallions or chives, olive oil, and capers, but no one knows how accurate this test was and many chefs do not agree with it.
Overall, despite knowing everything we know now, we are still just guessing. Especially because we still don't know the exact proportions or even the correct consistency. While some think the ingredients should be pureed to a smooth consistency, others believe it should be chopped finely and left with bite.
Today, many chefs have tried to imitate or even adapt and evolved the recipe in a multitude of ways. Some newer additions to the recipe have included everything from parmesan cheese and white wine, to artichoke hearts, and Anchovy paste. For now, the original recipe will remain a secret. But this well-kept secret is still being served at Antoine's to this day if you want to be inspired.
We may not be able to get exact detailed recipes, but if you're looking for a good place to start. Start with a good Oyster. Generally speaking, you want a medium-large Oyster so you can fit a lot of product into it. Deep cups help too because it will keep all the tasty juices contained.
According to Josiah Andrew, former chef and lover of "all things Oysters," for cooked Oysters, you also don't want anything super salty, because it will take away from the filling. He suggests using a southern Oyster. Perhaps something in the Chesapeake Bay area. A VA or MD Oyster will do nicely. He also suggests not to go saltier than a Bluepoint Oyster
Kings point and Sweet Jesus are both large and mild in flavor, so they work well in all cooked applications. However, if you are looking for some great local Oysters to try, the best would be Butt Ugly, because of its wide cup and mild flavor, or Elder Point, because of its meaty texture that will really hold of to your sauce.
Our number one pick is Gold Band Oysters. They have a mild briny flavor with a meaty texture and a mild, lingering finish. But most importantly, they are from Louisiana, so they may be the closest thing to the original.