The Organic Butcher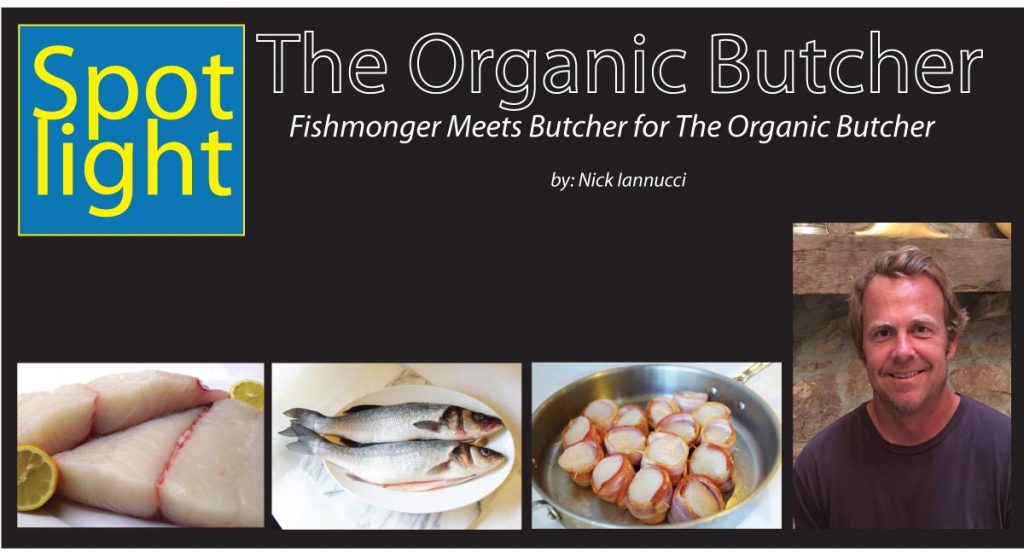 Fishmonger Meets Butcher for The Organic Butcher
By: Nick Iannucci
The convergence of butcher and fishmonger has given birth to The Organic Butcher, an old-style English butcher offering premium seafood and meat products for a new era.
Don Roden opened The Organic Butcher 12 years ago in Mclean, VA after working in Marketing and Sales on the West Coast. "I didn't wake up one day and go 'Hey! I want to be a butcher,'" says Don with a chuckle. But what Don did want was to provide access to wild caught or sustainable farm-raised seafood and humanely raised, antibiotic and hormone free meats for people who want it. "When I moved back East, I really became conscience of what I was eating. I was doing a lot of research into nutrition and where my food was coming from. I knew other people are interested in eating healthy too, and I wanted to provide them with a place where they could purchase high-quality seafood and meats."
The appeal of an organic butchery came easily to Don, who's research into nutrition has led him to follow the Paleo Diet. A key component of the Paleo Diet is no hormones or antibiotics are used on the animals and the animals aren't fed grains. A major part of the Paleo Diet, and healthy diets in general, is seafood and wild caught seafood plays a major role for many followers of the Paleo Diet. Known to have a whole host of health benefits, wild caught seafood offers Paleo Dieters a highly nutritious protein option. For Don, eating Paleo has led him to being more conscience about what he is eating and a healthier lifestyle.
With his belief in high-quality seafood and meats, Don opened The Organic Butcher. Don is extremely passionate about the products he offers and in the service he and his team provides. He has a set on internal guidelines for all the products he sells at The Organic Butcher. Don pays meticulous attention to the quality of seafood he sells and with good reason: Wild Caught Salmon isn't only the best-selling seafood item at The Organic Butcher, it is also in the running for all-around best-selling product. Don references prominent guidelines published by seafood research and conservation organizations, such as Monterey Bay and Blue Ocean Society, to make the most informed possible decision he can on what to provide to his customers. Wild Salmon, Black Cod, and Halibut are his best seafood sellers, but sustainable aquaculture salmon isn't far behind.
"Our customers are more educated than ever before and are more conscience of the quality of food they're eating," says Don. "I feel obligated to not just provide them with the highest quality, healthy seafood and meats, but to also educate them on where the products are from or raised." One particular area where Don likes to share info with his customers is on aquaculture. Wild caught seafood is a very popular seller in general, and Wild Caught Salmon is his most popular selling seafood item. However, Don also likes to talk with his customers about sustainable, farm-raised options such as Wild Isles Salmon. He takes the time to speak with his customers to dispel some of the myths they've heard about aquaculture and farm-raised fish.
Don wanted to give his customers a unique and entertaining experience. The Organic Butcher was fashioned after old-style English butchers, where he could get to know his customers on a more personal level. "I think interacting with the customers is great," he says. "It's a real opportunity to learn about them and share with them the benefits of eating organic." Having such intimacy with his customers has kept him in-tune with the seafood and meat options they're looking for. While the offerings at The Organic Butcher haven't changed drastically over the years, the conversations with his customers have enabled him to tailor his product offerings to what his customers are looking for and offer new and unique items not available in big box grocery stores.
With Don's dedication and passion, The Organic Butcher of Mclean is well positioned to provide healthy organic seafood and meats for years to come.
For more information, visit theorganicbutcherofmclean.com.