The Samuels and Son All-Fish Team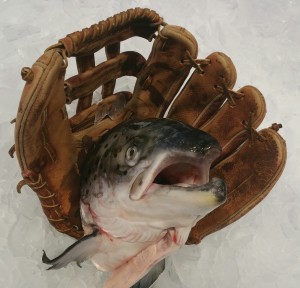 There are two things that are synonymous with summer and they are fresh Seafood and baseball. In honor of the Major League Baseball All-Star Game this week, we would like to combine the two with our "All-Fish Team". This is a list comprised of notable past and present Major League players with seafood related names. So, replace your hotdogs for Salmon burgers and enjoy The Samuels All-Fish Team!
Authors Note: Research and lineup was compiled by Samuels and Son Sales Team Leader Jason Wilson.
LF Mike TROUT: How could we not begin with this sweet swinging phenomenon? Mike Trout is currently one of the best players in baseball, and is making a case as the greatest athlete to ever come from South Jersey. Trout was named the American League Rookie of the Year in 2012 and won the MVP award in 2014. He is a four time All-Star and the youngest player in the history of baseball to record 100 home runs and 100 stolen bases.
CF Chet LEMON: Lemon was one of the most productive defensive outfielders in the history of baseball. Recording 400 putouts in five different seasons, a major league record, Lemon was selected to three All-Star teams and became a World Series Champion in 1984.
RF Tim SALMON: "King Fish" as he was affectionately known among Angels fans was a career .282 batter with 299 home runs and over 1,000 RBI's. Salmon was named American League Rookie of the Year in 1993, and in 2002 he was awarded Comeback Player of the Year as he helped lead the Angels to a Word Series title.
1B Sid BREAM: Best known for the historic slide when in the bottom of the ninth inning of a tied NLCS Championship Game 7, Bream scored from second base narrowly beating a throw from Barry Bonds and eluding the catchers tag. "The Slide" sent the Braves to their second consecutive World Series and earned Bream a place in the Atlanta Braves history books.
2B Lip PIKE: A power hitting second basemen with blazing speed, Pike was one of the most unique players of the 19th century. Leading the league in homeruns from 1871-1873, Pike was a career .322 hitter, and will go down in history as the first Jewish major league ballplayer.
SS Bobby STURGEON: One of many players who saw their career interrupted when they joined the armed services during World War II, Sturgeon posted a personal best .296 batting average with the Chicago Cubs in 1946, and finished his career as a .257 batter.
3B BROOKS Robinson: Widely regarded as the best defensive third baseman to every play the game, Robinson played his entire 23 year career with the Baltimore Orioles. A two time World Series Champion, Robinson was named the American Leagues MVP in 1964, All-Star Game MVP in 1966, and World Series MVP 1970. Brooks Robinson was enshrined in the Baseball Hall of Fame in 1983.
C Kurt SUZUKI: A strong backstop for the Minnesota Twins, Suzuki was named to the American League All-Star team in 2014. Known for his defensive prowess, Suzuki also had stints with the Oakland A's and Washington Nationals.
DH Kevin BASS: The switch hitting Bass was named to the National League All-Star team in 1986, a season in which he compiled 22 home runs to go along with a .322 batting average. Bass finished his solid career as a .270 batter with 660 RBI's.
LHP Vida BLUE: A three time World Series Champion in 1972-1973-1974, Blue won both the American League MVP 1971 and American League Cy Young awards in 1971. Blue was a six time All-Star, and one of four pitchers to start an All-Star game for the American and National League. Blue finished his career with 209 wins, 2,175 Ks and a 3.27 ERA.
RHP CATFISH Hunter: One of the best right-handed pitchers to play the game, Jim "Catfish" Hunter was elected into the Hall of Fame in 1987. A five time World Series Champion and eight time All-Star, Catfish Hunter compiled 224 wins and won twenty or more games in five consecutive seasons.
RP Rollie FINGERS: The second relief pitcher ever elected into the Hall of Fame, Rollie Fingers prolific career including 341 saves and 1,299 K's. Fingers was named American League MVP as well as American League Cy Young winner in 1981. He was a three time World Series Champion.
Manager: "AUNT" CONNIE Mack: Elected into the MLB Hall of Fame in 1937, a five time World Series Champion, Mack holds MLB record for most games managed 7,755 and most wins 3,731.