Three Best Reasons to Visit Wildwood: The Beach, The Boardwalk and Alfe's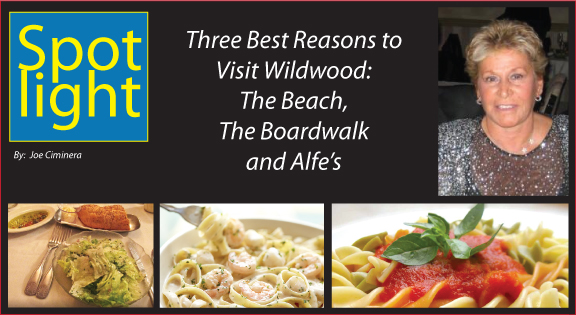 Three Best Reasons to Visit Wildwood:
The Beach, The Boardwalk and Alfe's
By: Joe Ciminera
or Rose Alfe, the amiable owner of Alfe's Italian Seafood Restaurant in Wildwood, NJ, there are three main reasons to come to Wildwood. "The beach, the boardwalk…and Alfe's," said Rose. "I put that slogan on a t-shirt."
Alfe's Italian Seafood Restaurant started at the cozy corner of Oak and New Jersey Avenues in 1985 serving Italian Seafood dishes that have earned the praise of diners across the Jersey Shore, and nearby states, but if it weren't for a weekly gathering of vacationing friends, Wildwood diners may have never been introduced to Alfe's amazing fish sauce also known as 'Jacki Sauce'.
Rose learned about the space that would become Alfe's through a friend who was looking for someone to take over the restaurant he was renting in Wildwood. "He kept asking me, 'when are you going to come see my place, when are you going to come see my place'," said Rose, a South Philadelphia native.
Rose eventually gave in and toured the restaurant. The owner of the building was a skilled woodworker, and at first glance she saw a beautiful interior with stunning architecture and huge potential. Rose, who had worked in restaurants previously, but never owned one, decided to purchase the space that would become Alfe's. If Rose were going to purchase a restaurant, she knew she could only do it her way.
"I learned how to cook from my mom," Rose said. "I only cooked with the finest ingredients at home, so that's what we do in the restaurant."
That philosophy has turned Alfe's into the go to spot for authentic Italian Seafood dishes in South Jersey. While Rose recommends "anything with Jacki Sauce", the Alfe's menu is full of fresh and mouthwatering seafood appetizers, pastas and entrees at affordable prices. For an appetizer, you can't go wrong with the incredible Shrimp Scampi. "We probably have the best Shrimp Scampi anywhere," said Rose. No Italian restaurant is complete without hearty pasta dishes, and Alfe's has them in spades. From Linguine with Mussels to their succulent Shrimp Fra Diablo, Alfe's has everything a pasta connoisseur could want.
It's the endless seafood entrees that really make Alfe's stand out. Rose is not kidding about the Jacki Sauce, a sauce made with Shrimp, Scallops and tomatoes among other tasty ingredients, which can be added to any piece of fish on the menu. The Tuna with Jacki Sauce is a favorite, but it goes great on Salmon, Halibut or any of the other fresh fish options at Alfe's.
One of the most unique reasons customers choose Alfe's is their year round consistency. Alfe's has the same chef, cooks, and wait staff working at the restaurant all year round, unlike many shore restaurants who transition staff after the summer months. "Same cooks, same staff, same taste," explains Rose.
Rose Alfe treats everyone coming into her restaurant like she would family. Hearty portions of incredible food, a lively environment and great entertainment truly make Alfe's one of the three best reasons to go to Wildwood.
Please visit Alfe's Italian Seafood Restaurant at www.alfesrestaurantwildwood.com.