Ulysses Gastropub – Chef, James Sparks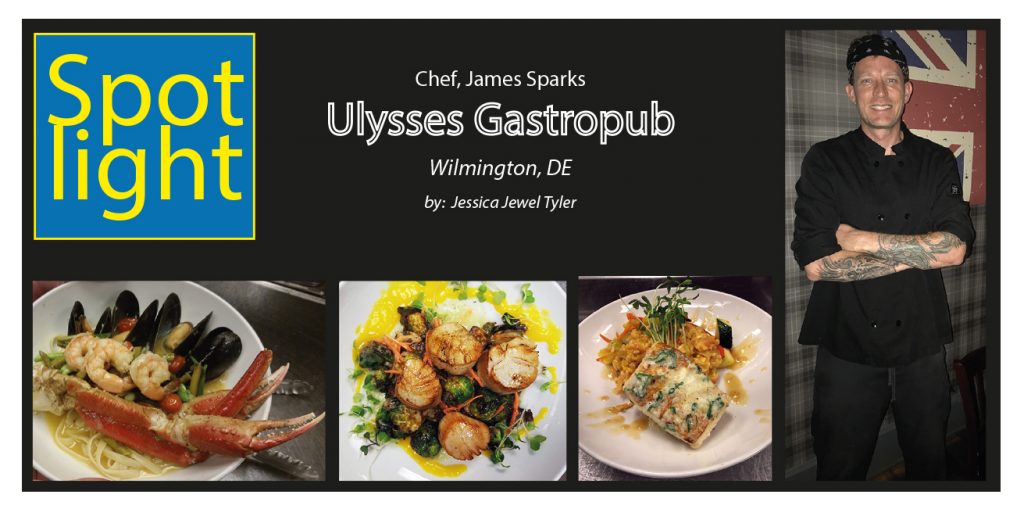 Ulysses Gastropub – Chef, James Sparks
Wilmington, DE
by: Jessica Jewel Tyler
The Brits define a gastropub as a public house that specializes in serving high-quality food while staying true to the traditional pub format. Wilmington, Delaware hangout spot, Ulysses Gastropub, stays true to this vision. Owners and brothers, Stephen & Michael Lucey, are well-versed in creating popular bars and restaurants. The Lucey brothers are the creative minds behind Six Paupers, a bar-and-grill in Hockessin, and Dead Presidents, an upscale Tavern in Wilmington. Their idea for Ulysses was an edgy and modern, farm-to-table space, with a menu in between the two – the unique, upscale food of the tavern, but the same laid-back, unpretentious vibe of the bar-and-grill. The menu can be described as traditional pub food with a modern southern comfort twist and classical French elements with emphasis on fresh, local, sustainable produce. What a mouthful! But the people love the taste – Ulysses draws a large crowd of all ages, from all walks of life, to relax in a fun, casual atmosphere and enjoy a tasty bite. When it comes to gastropubs, Ulysses is one for the books! Last year, they celebrated a 5-year anniversary and were voted 2017 "Best of Delaware" by Delaware Today. Ulysses Executive Chef, James Sparks, credits this success to the innovation of the elevated, modern gastropub concept and the menu of creative cuisine with the freshest ingredients.
The Lucey brothers strived to make the old new again and mix big city chic with small town charm. A daring concept, but through experimentation, innovation, and most importantly beer, they have succeeded. Ulysses' modern concept and eclectic fusion style is inspired in-part from a book with the same name. Joyce James' fiction, Ulysses, is considered to be the most important book of the modernist movement and a blueprint for other modernist works. It's composed of relaxed, abstract trains of thought filled with parodies and humor, which is fitting influence for Ulysses' modernist creative vision. With fun, kooky patterns and bright white porcelain animal heads on the walls, mixed with classic bar elements such as sports on a dozen TV screens, it's like MoMA meets your local pub. But the most important part of this concept is the experience, which is elevated with high-quality food and beer, and farm-to-table ingredients. Ulysses prides itself on 100% fresh, local, and sustainable ingredients and orders seafood daily. They make almost everything in house from sauces to pretzels and bread. Pairing the food with the beer also elevates the experience. Ulysses boasts an impressive twenty-four rotating beers on tap and is often referred to as a "wine bar for beer lovers." Bartenders and servers are skilled in finding the perfect beer to match your palette and plate. They even use beer in a lot of recipes such as their gravy made with Yards Love Stout.
Ulysses Executive Chef, James Sparks, was classically trained in French cooking, but don't typecast him. He notes that he loves smoking, curing, and working with seafood in true southern style. At heart, he is a comfort food guy with roots in North Carolina. This makes for an exciting collaboration perfect for Ulysses. Sparks has been adding his spin to the menu for almost four years and specializes in fresh ideas with fresh ingredients. He takes inspiration in exploring new restaurants, especially in other areas of the country, to see what the scene is, experience new styles and cultures of food, and make sure he is staying ahead of the trend. (Something his favorite chef, the late Anthony Bourdain, was famous for.) The menu, which according to him some call antithetical, is an amalgamation of the French and southern influences with elements of … everything but the kitchen sink. The emphasis on seafood is also quite clear, which is a top southern comfort treat. Ulysses goes beyond the traditional pub foods like Fish and Chips and Crab Cakes to offer more unique and upscale meals like Cajun Shrimp and Grits and Jambalaya with Shrimp and Alligator-Pork Sausage. Ginger Glazed Atlantic Salmon with saffron coconut rice and edamame adds some Asian flair to this hodge-podge menu. Sparks likes to go with the flow depending on which ingredients are trendy and present. His newest inspirations are featured in the daily specials and often make it to the main menu. Look out for some of his latest seafood specials to get top billing soon- Crab Nachos, Seared Scallops with Coconut Saffron Basmati and, current special, Pescatore with Scallops, Shrimp, Clams, Mussels and King Crab (when available) in a summer shandy sauce!
For more information, visit ulyssesgastropub.com.