Weavers Way Co-op – Philadelphia, PA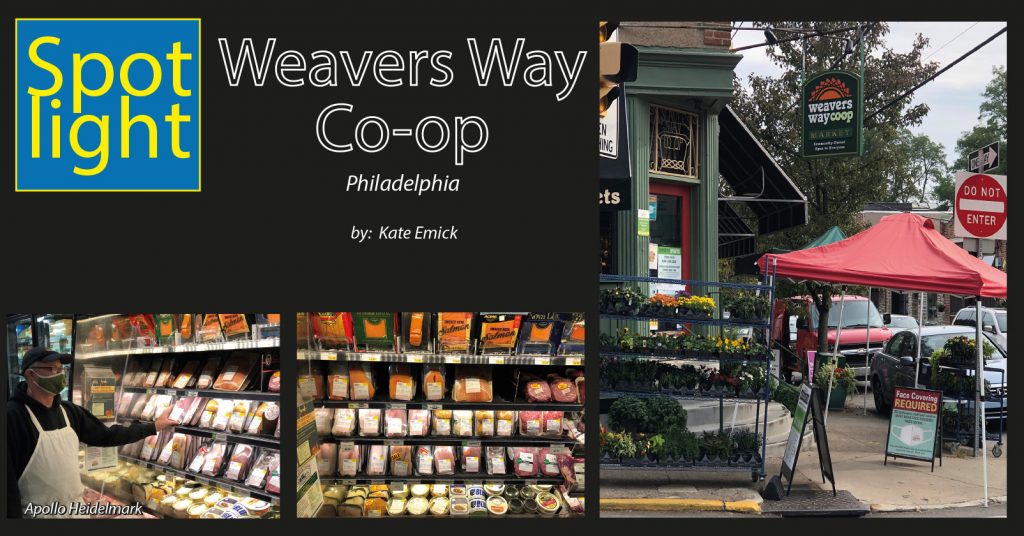 Weavers Way Co-op – Philadelphia, PA
by: Kate Emick
Have you ever been to a grocery store where most of the customers are also the employees and the owners? If not, then you probably have not been to a Co-op before. This is just one of the things that makes Weavers Way Co-op unique.
Weavers Way first opened its doors in 1973 as a buying club, located in a local church basement. People would shop weekly from a limited selection of items, but as time passed, some of the customers wanted more than just a buying club; they wanted a store. Over time, customers began to contribute $10 each, and the first Co-op location in Mount Airy started to grow.
Weavers Way Co-op has three grocery store locations in Mount Airy, Chestnut Hill, and Ambler, and a farm market located in Philadelphia at Saul Agricultural High School on Ridge Avenue. Weavers Way prides itself on the large selection of products that it carries.
Anyone can shop at Weavers Way, but by becoming a member, there are distinct benefits. The benefits include discounts, working with a community base, and member profit-sharing. Profit-sharing refers to rebates that members get with money that's left over after the Co-op's bills are paid and can be credited to the member's prepaid accounts. These benefits go hand in hand with the inspiration behind the Co-op because it's all about working together. Norman Weis, Purchasing Manager, who has been in retail of natural food for almost forty years, described the Co-op as a democratic governance that its members owned and governed. Weis says "adaptability, resiliency, and people stepping up when there is a need," are all takeaways from his time at the Co-op.
At Weavers Way, they participate in the Seafood Watch Program. Sustainability plays a vital role at the Co-op as they strive to keep their seafood selection well stocked with environmentally friendly practices in mind. Apollo Heidelmark, Meat and Seafood Manager at Weavers Way, says what he likes most about the Jail Island Salmon is that it's very environmentally neutral and as natural as possible. He also says that buying local is very important. Jail Island Salmon is sustainably farmed in Canada, a short ride from the farm to Samuels, and then to the Co-op.
The Seafood Watch Program, a project of the Monterey Bay Aquarium, provides a guide that recommends seafood based on the catch methods or farming practices to support a healthy ocean. The Green Best Choice, indicates seafood that has been caught or farmed most responsibly. The Yellow Good Alternative provides additional options, and the Red Avoid category indicates seafood to avoid based on overfishing and the harm to the environment or the catch method.
Samuels and Son Seafood delivers to Weavers Way six days a week. Without a doubt, Salmon is the most popular seafood product in the case, but Scallops are also a fan favorite. Aunt Connie's Famous prepared foods feature products such as sauces, soups, and salads, and have won over the customers' hearts. Heidelmark emphasizes how much the customers enjoy the Fish Cakes, Coleslaw, Potato Salad, and the new Crab Salad. He said, "It's already cooked, they just have to heat it, and it's ready to serve."
With COVID-19, home delivery and curbside pick-up have been huge components for the grocery store. Weis described how it was only a small part of the business before, but once the pandemic hit, it's become so much more significant. Finding alternatives because of product shortages has been key, along with internal cleanings to keep everything running smoothly and safely.
Weavers Way Co-op isn't your typical grocery store; it's a unique shopping experience. The working members, the extensive product selection, and the community focus make Weavers Way what it is today. Check out Weavers Way Co-op online at weaversway.coop and on Instagram @weaversway.