A Dozen Oysters We're In Love With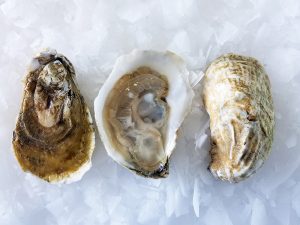 A Dozen Oysters to Try for National Oyster Day.
Here at Samuels, we've never met a bi-valve we didn't like. Oysters have such vast and complex flavor profiles and we love them all for different reasons – Just like fine wines, you have to explore the "merrior" (that's "terrior" for seafood) to see which style suits you best.  Now is the perfect time get in on the action, because Sunday, August 5th 2018 is National Oyster Day! Whether you are new to Oysters or a connoisseur, here are a dozen Oysters to slurp up this Sunday.
Cape May Salts
Delaware Bay, New Jersey – Rack & Bag/ Off-Bottom Cages – Medium size
This New Jersey favorite is highly valued for quality and extra briny flavor. Hence the name, Cape May Salt – here we get that full ocean salinity from the cold parts of the Atlantic. The size and texture are also great for frying and grilling.
Beau Soliel
Miramichi Bay, New Brunswick – Floating Trays – Small size
The popular New Brunswick Oyster has a light and refined flavor with both salty and sweet aspects and a hint of hazelnut. A very rich, high quality Oyster with large, firm meats.
Raspberry Point
Prince Edward Island, Canada – Bottom Cultivation – Medium size
From the same growers of Lucky Lime, Raspberry Points are just as tempting as they sound. They have a dense meat and a mildly salty, yet very clean flavor, with a delightful sweet finish.
Kumamoto
Deep Bay, British Columbia – Rack & Bag – Small size
A Japanese species brought to the U.S. in 1947, these Deep Bay babies are extremely deep cupped with a firm and smooth texture and a mild briny, mineral flavor. This complex flavor also boasts a hint of nuttiness and a sweet melon finish.
Wianno
Cape Cod Bay – Rack & Bag – Large size
Boasting a deep cup, this Oyster has plump and succulent meats that are slightly sweet with a distinctive, earthy, briny flavor.
Wellfleet
Wellfleet, MA, Rack & Bag, Large size
In the early 1800's, native Wellfleet oysters were almost extinct, but thanks to what we now know as aquaculture, the species has rebounded. Now they are more plentiful than ever and known for succulence, high brine, and a clean, crisp finish.
Kings Point
Chesapeake Bay, Bottom Cultivation, Extra-large size
Kings Point Oysters are exceptionally large and boast a buttery sweet salinity that finishes clean. The luscious clean water that drains into the bay compliments the salinity that everyone looks for in a Chesapeake Bay Oyster.
Ship Wreck Select
PEI, Bottom Cultivation, Medium size
The name reminds us about the dangers growers risk on the rough waters to cultivate such a full bodied Oyster with perfect salinity and a sweet, creamy finish. One of Canada's most prized oysters, a definite must-try.
Grand Pearl
Saxis, Virginia, Floating Trays, Medium size
Becoming increasingly popular in restaurants, Grand Pearl Oysters have a mild briny flavor with a sweet, buttery finish. Because of the way they have been bred, they remain plump and fat all year round!
Elder Point
Delaware Bay, NJ, Floating Trays, Medium size
This is definitely a full-flavored Oyster! There is a perfect balance of sweetness & brine in this deep cup. Elder Point also boasts a meaty flesh, velvety smooth texture, and a bold finish.
Capital Oysters
Olympia, WA, Tide Tumbled, Medium size
Capital has perfected growing techniques to ensure maximum meat! This Oyster has a pure, sea salt flavor with a clean finish and virtually no grit.
Holy Grail Oysters
Chesapeake Bay, MD, Suspension Tray, large size
Holy Grail Oysters are deep-cupped, full-bodied and very plump. The Chesapeake waters give them a clean, ocean profile, with a complex, sweet finish that makes them absolutely heavenly.