Mexican Food Factory, Marlton, NJ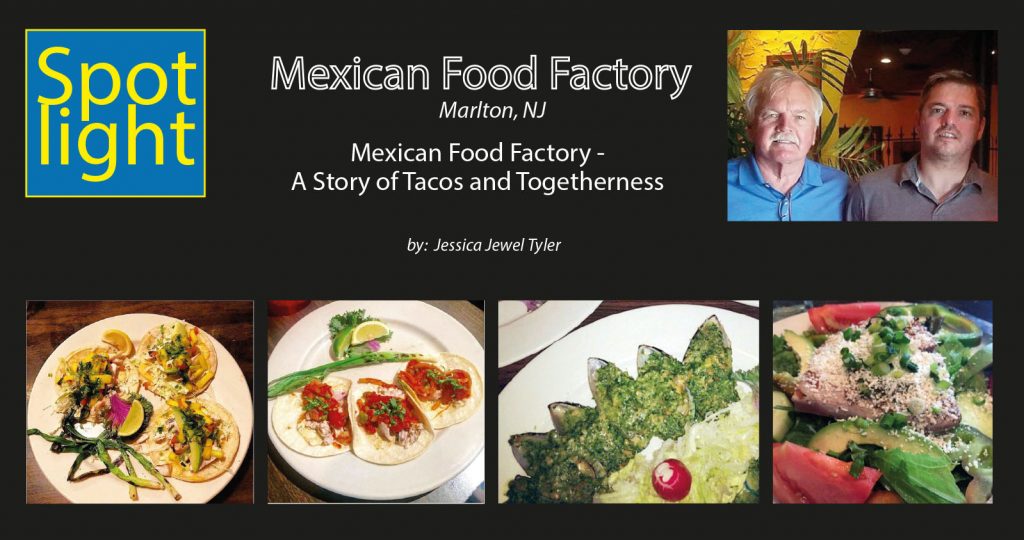 Mexican Food Factory –
A Story of Tacos and Togetherness
by: Jessica Jewel Tyler
The name "Mexican Food Factory," to some, may conjure images of tacos on a conveyer belt, similar to the classic scene in "I Love Lucy" (with tacos instead of chocolates.) But at the Mexican Food Factory in Marlton, NJ, that's the furthest thing from the truth. The name today, speaks to the amount of hard work that happens in this building every day. For the past 40 years, the Sodaski family has run their restaurant by relying solely on experimentation, elbow grease, and most importantly each other.
Paul and Pamela Sodaski opened the Mexican Food Factory in 1979 when there were few other Mexican spots in the area. With that being said, the selection of authentic Mexican ingredients available was also lacking. But Pamela, who had grown up in California and even lived in Mexico for a while, longed for the cuisine of her youth and was ready to take a chance. That's when she and her husband, Paul, decided to open a Mexican restaurant where everything was made from scratch and as authentic as possible.
Turns out, the Sodaski's took "from scratch" very literally. A lot of the beautiful artwork that adorn the walls of the Mexican Food Factory, were hand painted by Pamela (such as the huge wooden sturgeon over one of the archways) or exhaustingly procured and refurbished by Paul. When the restaurant was about to open, the family bought old pews from a church and retrofitted them. Paul sawed each bench in half, by hand, to construct what are now almost 30 roomy, one-of-a-kind restaurant booths.
Each item on the wall also holds a unique quality and a bit of mystery to it, like the Aztec head statues overlooking the bar and the back room. These found their way to the restaurant from the commodore hotel, after overlooking New York City for the past 200 years. One unsolved mystery however, is the portrait next to the bar, featuring a young Pamela Sodaski holding the leash of an invisible dog.
Pamela was the chef for the first 35 years, but now the youngest son Taylor, holds this job with pride and continues in the same manner of using fresh ingredients and making items from scratch. In fact, the Mexican Food Factory frys their own chips, cuts their own produce, shreds their own cheese, and creates all their salsas, sauces, and salad dressings by hand. This is because the family really cares about the quality of each ingredient. Take onions for example, this restaurant cuts 50 pounds of onions a week by hand. When they tried using machines, the blades would dull too quickly, causing the skin to bruise and the produce to taste less sweet. They decided then, that "by hand" is always better.
Mexican Food Factory's produce is actually grown in their own garden. There are quite a few peppers and herbs that are hard to find, in addition to their authentic Mexican heirloom tomatoes. Chef Taylor also excitedly spoke about his ghost peppers and his Mexican chilies. He says the Mexican chilies are similar to a red jalapeno and he uses them in a few dishes. His favorite is the Texas Gold Shrimp tacos. He dries and smokes the peppers and makes them into a jelly. When he sautés the Shrimp with the pepper jelly, it melts together and adds a wonderful succulence and spicy flavor to the dish.
You'll notice the Mexican Food Factory offers many seafood options that go beyond fish tacos. "You don't see much fish at your typical Mexican spot," said former fisherman, Paul Sodaski. He wanted to change that and represent the more coastal areas of Mexico. Of course they have a killer fish taco made with Mahi Mahi and a mango mint salsa, but they also offer a blackened Snapper, a grilled Salmon salad with honey serrano dressing, and a black pepper corn and ancho chili-crusted Tuna.
Chef Taylor says he's gotten a lot of inspiration from "crossing cultures." He has recently created Ahi Tuna poke nachos for the menu, combining a popular Hawaiian dish with a Mexican staple. Another great example is the New Zealand Mussels served with a cilantro sauce that has been thickened with almonds, similar to a Mexican pesto. This sauce also delightfully pairs with the sautéed Softshell Crabs.
Chef Taylor loves being in the kitchen and getting to experiment with fresh ingredients. He says it reminds him of his youth when he and his father would catch a fish and smoke it, while his mother and brother would prepare salsas and side dishes. They always competed to figure out which piece of the meal turned out best, but in the end, the "best" was the total result of what they made together.