August is the Time to Try Madai

'Madai Snapper', also known as Japanese Sea Bream, is a species of eating fish vastly popular in Japan. Thanks in part to the growth of the Sushi restaurant scene in the United States, Madai is now making its way onto menus across the country.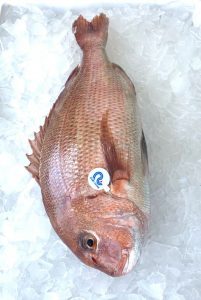 Madai is enjoyed by chefs for its buttery, sweet texture and versatility. Great cooked or crudo, Madai skin is edible, which makes the fish a great option for grilling or frying whole. Pan searing is another great option, but crudo applications are still the most popular. Try serving Madai with one of our many rice options, including Koshihakari short-grain rice. Samuels also provides a bevy of dry goods and Asian-inspired sauces, which could aid in your preparation of Madai.
Our Madai are aquaculture-raised across the pond in Japan in rich fishing grounds on Shikoku Island. A moderate climate and stable year-round temperature provide the farmers with an ideal situation for raising Madai. Thus, Samuels is able to provide you with Madai all throughout the year! Additionally, our Madai are raised on a special feed that helps produce a natural red skin color and enriches the flesh with Omega-3 fatty acids.
Whole, 4 pound average Madai are available at Samuels all August for $9.25/lb. Snap into action fast because this pricing won't last forever!