Find Your Sole-Mate this Month

Our featured special this week is Wild Dover Sole. Caught in the depths off the Nethlerlands, Dover Sole are a mainstay on menus across Europe, especially France. Beloved for their mild, sweet flavor and delicate, flaky meat, Dover Sole pair perfectly with a myriad of flavors and preparations. In August, frozen whole 20-24 oz Dover Sole are on special for $10.95/lb.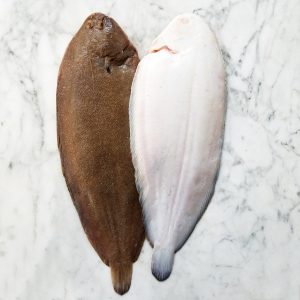 One of the most versatile fish money can buy, there are plenty of ways to prepare Dover Sole. The flavor, despite being mild, holds up against strong sauces and flavors. The fish is popularly peeled and sautéed, but can even be prepared whole and served in traditional tableside service style. Try pairing Dover Sole with a rich, buttery white wine sauce for a classic crowd-pleaser. Dover Sole can even be coated in rice flour and corn starch, and fried for an Asian-inspired dish. Chefs may even want to pair Dover Sole with Blu Brand Claw Crabmeat, also available on our August Specials. Be sure to see our discounted pricing on bulk orders!
While Samuels normally offers frozen Dover Sole by the bulk case, we're giving you the chance to buy them by the each in August. That's right, there are no minimum orders! You can take two pounds, or 200 pounds. Be our guest! Who knows, maybe you will find your Sole-mate this month.