Baia Restaurant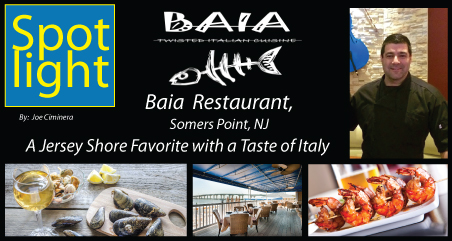 Baia Restaurant, Somers Point, NJ
A Jersey Shore Favorite with a Taste of Italy
By: Joe Ciminera
Picture yourself staring out onto a sun-kissed bay with a glass of wine in your hand as you listen to waves gently break against a wooden deck with a plate of incredible Italian Seafood in front of you and a gentle breeze blowing by.
Since opening in 2011, Baia Restaurant in Somers Point, NJ has been serving premium Italian seafood dishes with an incredible ambiance that keep vacationers coming back every summer. Baia uses fresh seafood as the cornerstone ingredient of unique and creative dishes prepared by Executive Chef Ed Bonsignore.
Bonsignore was manning a kitchen in Florida when a New Jersey based property owner on vacation stopped in for dinner. Within a few bites, he knew that he wanted Bonsignore to help open the restaurant in New Jersey that would become Baia.
"My father owned a deli on Long Island," Bonsignore said. "I started out making soups, and kept with it. Now cooking is a passion for me."
Bonsignore's experience working with soup gave him the experience needed to make incredible sauces. The menu features a wide array of fish prepared in numerous styles to go with eight different house-made fish sauces. Grilled Swordfish, sautéed Snapper, grilled Atlantic Salmon and sautéed Grouper are some of the countless fish options offered. The fish sauces including cacciatore, garlic herb, tropical fruit salsa and piccata, are all unique and complementary.
"The Livornese is my favorite sauce," said Bonsignore. "I love the olives and capers and crushed tomatoes. It's perfect on Sea Bass."
Aside from fish, Bonsignore's menu contains other mouthwatering seafood entrees including Baked Lobster Ravioli, Sautéed Shrimp over Linguini and Littleneck Clams served with Linguini in red or white sauce. The seafood appetizers are spectacular too with favorites being Garlicky Clams and Crispy Calamari. Baia's raw bar selection cannot be overlooked as Clams, Oysters, and Scallop Ceviche are always hits with guests, but it is certainly the Italian dishes that strike a chord with customers.
"There are plenty of seafood restaurants at the shore," said Bonsignore. "Not many Italian Seafood restaurants though."
The tasty eats are only one of the aspects that set Baia apart from other shore restaurants. With three decks, all with bay views, there is an ideal spot at Baia to meet everyone's needs. The upper deck is an extension of the main restaurant featuring the full menu, the lower deck is perfect for sitting at the bar to watch a game or listen to live music and features a bar menu with some amazing items, and the side deck is the party deck, featuring a DJ and dance floor.
"Baia is really a spot for people on vacation," said Bonsignore regarding Baia's unique atmosphere.
Bonsignore understands that the restaurant works best as a summertime escape, which is why it opens April 24 and closes after Labor Day. In the offseason, Bonsignore takes his talents to The Crazy Sofa in Newtown Square, PA where seafood also plays a key role on the menu at the laid back restaurant.
When Baia is in full swing, the delicious options are truly endless. "The fish is all so good and the sauces are all great in their own way," said Bonsignore. It depends what you're in the mood for."
With the warm sun on you as you relax on the deck you will be in the mood for incredible seafood, and Baia has plenty to offer.
Please visit Baia Restaurant at www.baiarestaurant.com