Batard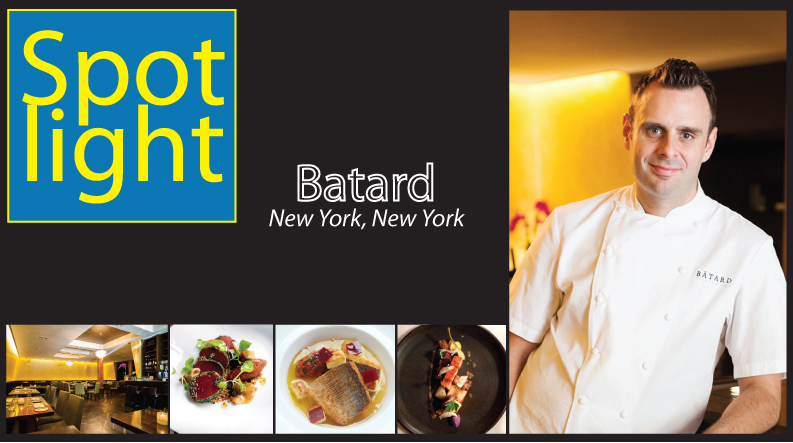 Batard
By: Joe Ciminera
As crowded as a Manhattan sidewalk, the dining scene in New York City makes it extremely difficult for a newcomer to set itself apart from the staunch competition.
Batard, awarded the 2015 James Beard Award for Best New Restaurant, and called the Best New Restaurant in New York City by The New York Times, has separated itself in a way that might surprise you.
"We took a step back," said Executive Chef and co-owner Markus Glocker. "We didn't take ourselves too seriously and focused on the big picture."
The big picture at the hottest restaurant in New York is serving customers premium cuisine in a relaxed setting, and Batard has done that magnificently. The menu at Batard is a la carte and customers can choose to enjoy two, three or four courses in the chic, but comfortable dining room.
"It's a loud restaurant and you feel like you're in a living room," said Glocker, a native of Austria.
It would be easy to see how customers might be expecting a stuffy dining room with a kitchen turning out highfalutin fare at a restaurant lauded with the accolades Batard has earned, but many dishes on Glocker's praised menu take a simplistic approach. The fresh Yellowfin Tuna first course is served with toasted quinoa and soy sauce. For a second course Scallop dish, Glocker masterfully pairs the mollusks with kale, vanilla and potato mousseline. While those craving beef, pork and poultry will have no problem enjoying a meal at Batard, seafood dishes are some of the menu standouts.
When it comes to preparing fish, Glocker takes a back-to-basics approach, featuring roasted Cod seasoned with Hungarian paprika and whole roasted Branzino served alongside cauliflower and cannellini beans.
Growing up in Austria, Glocker was constantly around food as his family was involved in the restaurant industry. His menu reflects his roots with traditional Austrian dishes along with several decadent Viennese desserts. One of the most popular menu items at Batard is the Pork Schnitzel which Glocker modeled after his mother's recipe.
"It's simple and traditional, but it makes big waves," said Glocker.
Simple and traditional may not be two words that come to mind when thinking about a chef of Markus Glocker's pedigree. Spending time with renowned chef Charlie Trotter in Chicago, Glocker was able to hone his creativity with hands on experience, something he would not have received in Europe as chefs train for years before getting into a kitchen. Glocker then had the opportunity to apprentice under Chef Gordon Ramsay at the perfect time when he only owned one restaurant. Glocker was able to help it grow into the culinary empire Ramsay is known for today.
"I was able to see his company grow into what it is now," Glocker said of the fiery celebrity chef. "Not only did I learn about cooking technique from him, but I also learned about the business side of the restaurant industry."
The business training proved invaluable to Glocker when he wanted to open a restaurant of his own. His ambition led him to New York City, where he and his business partner, John Winterman, got wind that restauranteur Drew Nieporent had an open space. They reached out to him, and the trio agreed to go into business. An agreement that has proven advantageous for all parties involved.
Now that Batard is off the ground, and soaring over New York City for that matter, does Glocker feel he needs to live up to the hype?
"Absolutely, customers are expecting gold on the plate," said Glocker. "But the most important thing with Batard is to keep it the way it is, the food coming out of the kitchen is why the guests come, and I want to keep it that way."