Bertha's Restaurant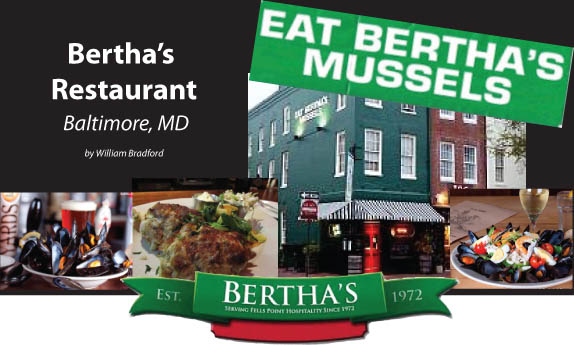 While driving around Baltimore, it's common to catch yourself behind a car with a bumper sticker reading "Eat Bertha's Mussels." You may find yourself wondering what the catchy phrase is referring to, however, many Baltimore restaurant goers understand the phrase made famous by this Inner Harbor, Baltimore landmark.
Bertha's Restaurant is one of the liveliest and most welcoming restaurants in Baltimore and is known for its mussels, endless seafood dishes, drinks and live music. It also has an enchanting history that has stood the test of time. Bertha's Restaurant opened in 1972 in the historic Baltimore Harbor. Bertha's played a large role in establishing the now extremely popular Inner Harbor restaurant scene. They were the first sit down restaurant in the Fell's Point district, a charming waterfront neighborhood that was founded in 1726 and still maintains a special colonial sprit today.
When owners Tony and Laura Norris opened Bertha's, they were both music instructors and Fell's Point neighborhood was run down and neglected. However they both knew, it could become something special one day. With some fine tuning, just like a musical instrument, it would be a success. The restaurant name also has a unique background coming from a stained glass antique Tony found in a junk shop. They both treasured their new find and dedicated the name of a Bertha E. Bartholomew, whose identity is still unknown to them. Shortly after the husband and wife team opened Bertha's, it became a destination for musicians, artists and more. With their success, a number of other bars started to open, turning this part of the waterfront into what is now called the "entertainment zone." In 1980, Tony and Laura expanded the restaurant to accommodate more guests, more room for Tony's antiques and more room for music memorabilia that gives the restaurant soul and plenty of items to talk about.
Tony and Laura are still proprietors of Bertha's along with their son, Andy, who runs the day to day functions. Chef John Maler has been leading the kitchen for the past four years now and has been delivering delicious and traditional seafood meals while adding his personal style. "Some dishes here are just perfect and I don't want to change a thing, but others I wanted to update ingredients, and put my own spin on a few dishes and how I present them to a guest," he says.
Chef Maler has worked in a range of restaurants from Baltimore to Philadelphia and has found a home at Bertha's. "As a chef, I like how we don't try to be hip. We stick with our own traditions while always staying current. For a customer, I love how everyone here puts their heart and soul into the restaurant. It's both friendly and unique for locals and tourist," he adds. Chef Maler mentions the wide range of guests that visited Bertha's. There are locals who have been coming here for decades, travelers from around the world visiting Baltimore, and of course the jumping college scene.
Bertha's Mussels are offered with a variety of butter sauces such as; Lancaster creamy mustard sauce, or anchovy, tomato & garlic butter sauce and many more. These bowls of mussels, and sauces are a perfect match with fresh Italian bread that pair well with their wide range of craft beers and signature cocktail "Bertha's Ghost." Bertha's are also crabcake masters, offering the iconic Maryland seafood favorite as an appetizer, sandwich or entrée. Dinner menu highlights, by Chef Maler include: Shellfish Royale with shrimp, oysters, scallops, mussels and Smithfield ham in a cream sauce with toast points, a tasty clam, calamari and linguine dish and a special chickpea burger.
Chef Maler's seafood preparations along with a variety of other delicious dishes provide the picture perfect Inner Harbor, Baltimore dining experience. The warm and fun atmosphere tells the unlikely story of a couple of musicians who created a neighborhood bar that is now a fixture in one of the mid Atlantic's fastest growing, most respected seafood restaurant scenes. Remember, when in Baltimore, take the bumper sticker's advice and "Eat Bertha's Mussels."
Please visit Bertha's online at www.berthas.com