Eataly NYC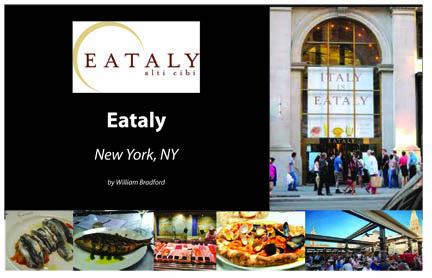 Eataly
New York, NY
Eataly NYC is 50,000 square feet of food greatness. Some compare it to a trip to an old world marketplace in Italy while in New York. It's like an amusement park for foodies, chefs and travelers. However it's described, anyone walking into this food paradise will be amazed with the highest quality food at their fingertips.
Whether you're preparing a Feast of the Seven Fishes, pasta dish, delicious desserts, or looking for the best meats and cheeses, Eataly will provide you with elite quality and variety of authentic food. Venturing into this bombshell of a building for the first time is an exciting experience. Located on Fifth Avenue in Madison Square Park, Eataly gets the authentic Italian Market feeling down perfectly while providing a beautiful presentation of marble floors, canopies and food…lots of food.
Everything Italian food is right before you. There is a large, impressive seafood counter full of the freshest seafood right out of the water such as Scallops, Bronzino, Octopus and much more. There are aisles and aisles of favorites such as the freshest produce, pasta, breads, cheeses, wines, coffees, truffles, artisanal chocolates and meats from both Italian and American bred animals. Shopping for your dinner here could make you hungry, and if so, you're in luck.
Eataly features seven sit down restaurants that use the freshest ingredients right from their very own market. Il Pesce is a very popular seafood restaurant that features dishes such as Baccala with faro, chickpeas, celery and celery root along with a Pesce Crudo Trio including three select raw fish with extra virgin olive oil. Each restaurant specializes in a respective field whether it is produce, meat & cheese, pizza & pasta, butchery, sandwiches or cask conditioned ales.
While soaking in the authentic ingredients and learning about the relationships between fishermen or farmers and their products, it's easy to see Eataly follows the Slow Food philosophy in a fast paced environment. The Slow Food movement places importance on sourcing from artisanal, often local producers, affordability, sustainability and education. Eataly also provides classes on holiday seafood feasts, traditional Italian cuisine, meat and cheese courses and guided tours throughout the market. For every item in the marketplace and every appetizing dish on the menu, the employees and chefs of Eataly always make a point to educate you about where the food came from and the story behind it.
Eataly's story begins in 2007 when founder and creator, Oscar Farinetti opened the first Eataly in Fuin, Italy. Eataly currently has 10 locations in Italy, 13 in Japan and two in the U. S. It was in 2010 when Oscar joined forces with New York natives and frequent Italy visitors, Adam and Alex Saper to open Eataly, New York. In 2013, Eataly's largest location opened in Chicago, a second New York site is being developed in the new World Trade Center.
Bringing star power, chef knowledge and even more amazement is Eataly's partnership with restaurateurs Mario Batali, Lidia Bastianich and her son, Joe Bastianich. All three members certainly fall into the celebrity chef status having appeared on a number of shows such as Iron Chef and MasterChef along with owning and operating restaurants all over the country. The partnerships involved with this destination fuse together experience, emphasis on quality products and excitement.
Eataly has it right. Quality authentic food should be available to everyone. If you're dining on local fish at Il Pesce, or homemade mozzarella at La Piazza, these very same products are available a few feet away in the next aisle over for your very own holiday meal.
Explore Eataly online at www.eataly.com