Celebrate Valentine's Day with your Sweetheart and Bristol Scallops

Valentine's Day is fast approaching and there are so many great seafood items to cook for that special person in your life.  One of my favorite Valentine's Day items are Bristol Scallops. There are different sizes to choose from U10 Scallops and Chunks from the chilly, pristine waters off Maine, and the beautiful Bay Scallops all from the clean, tropical waters off Peru.  The meat is succulent and sweet and great in many different cooking applications. The Bristol Scallops sear great and can really elevate any Valentine's Day menu for that special loved one.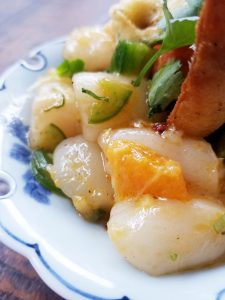 I love to prepare the U10 Scallops with mushrooms. The earthy unami of the domestic and wild mushrooms really brings out the sweetness of the Scallops. A simple herb puree or a light beurre blanc goes great with the seared Bristol Scallops. They are also great paired with spring peas, fiddlehead ferns, ramps, and asparagus making a spring bounty of flavors and textures for most palates. The quick cooking time of the Bristol Scallops also lends to one spending more time with that special person in your life.
Bristol Scallop Chunks make excellent additions to seafood stews, pasta dishes, stir fries, and chowders.  These succulent Scallop Chunks are also perfect for a gratin with black winter truffle, meyer lemon, and fontina cheese, topped with an herbed panko crust.  This dish is perfect served with a crisp white wine, a simple salad, and some crusty bread. This makes for a romantic meal to eat by a nice roaring fire on Valentine's Day or any evening during the month of February.
Bristol Bay Scallops are a great addition to any menu. They are plump and have a firm flesh.  I really enjoy preparing them in raw applications, like ceviche.  It's a great time of the year to do ceviche with the plethora of citrus and tropical fruits that are available.  I simply marinate the Scallops in Santa Ines Extra Virgin Olive Oil, meyer lemon juice and zest, a little crushed chili flake, coriander stem, and salt and pepper, then garnish with pickled kumquats, pomegranate, and lotus chips for a nice crunch.  This dish is bright, eye appealing, and palate pleasing. It's great as a first course or light lunch and sure to please even the pickiest palates.
Whether it's the U10 Scallops, Chunks, or the Bay Scallops, the line of Bristol Scallops is a winner. They are amazing for appetizers, entrees, and salads. They are perfect for that special Valentine's Day menu at home or in your restaurant.