Chef Brian McBride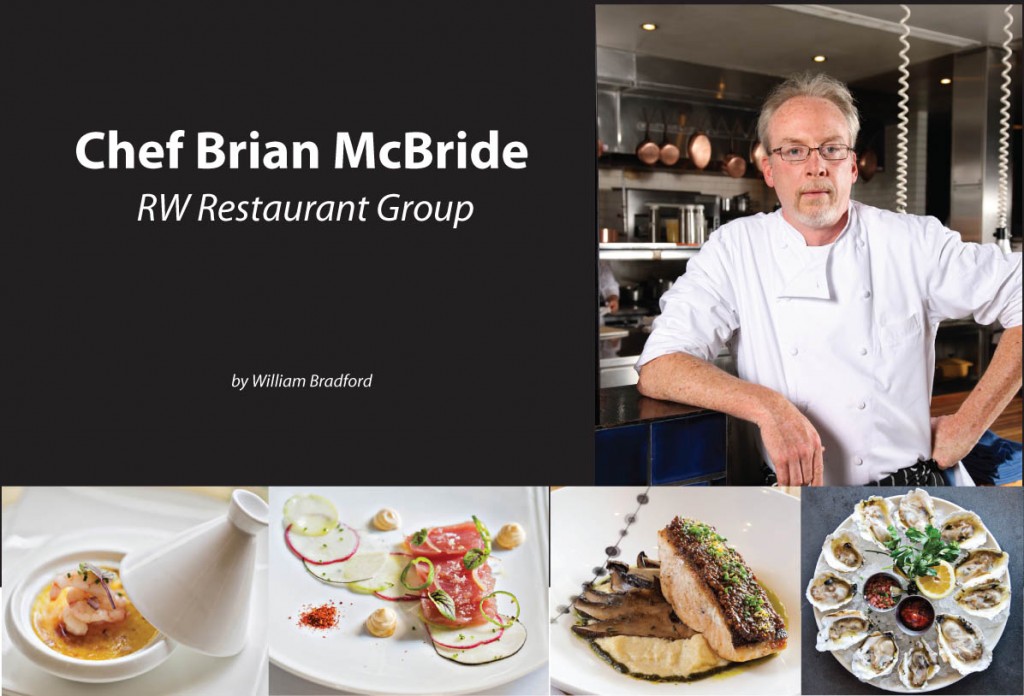 If you've eaten in Atlantic City, Washington DC, Maryland or Virginia, and enjoyed an excellent meal, you've most likely experienced what Chef Brian McBride can do in the kitchen. As corporate chef of the RW Restaurant Group including Mussel Bar & Grille, Brasserie Beck, Brabo, Marcel's and Wildwood Kitchen, this award winning chef has a heavy hand in making this region one of the most exploding restaurant scenes in the country.
In 2011, Chef McBride left his tenure at Blue Duck Tavern of the Park Hyatt after 25 years to join fellow chef and friend, Chef Robert Wiedmaier, to continue expanding his popular restaurant endeavors. Chef Weidmaier, who had already seen success with his restaurants was looking for a chef, business partner and friend he could trust to raise the bar and open beautiful restaurants with unique, great tasting food. "We both were at a point where we wanted to expand, so we got together and made it happen," say Chef McBride.
A graduate of Johnson & Wales University, Chef McBride's experience at the Park Hyatt gave him the opportunity to travel all over the world. In addition to all over the U. S, he's cooked, observed and enjoyed food in London, Australia, Singapore, Zurich and many more. He credits these amazing experiences to help him form his style and philosophy on food. "I concentrate on using time honored techniques, quality products and keeping it simple. When you visit the regions where a certain cuisine was born, you realize how simple they keep it," he says. He mentions in Tokyo, the markets were full of the freshest fish and best ingredients. It's these types of standards he and his chef de cuisines hold for all locations.
Chef McBrides relationship with Chef Weidmaier is among the great relationships he has with his talented army of chefs. While Chef McBride has final say on all menu items, he cherishes the artistic and culinary collaboration between himself and his chefs. "It's so important to keep my staff learning, educated and engaged," he says. In fact, it was Chef Charles Vogt of Mussel Bar & Grille, one of Chef McBride's hires that won the Skuna Bay Salmon Kentucky Derby East Semi Final Round at Samuels last April.
The ambition of Chef McBride and everyone he collaborates with is obvious when spending a night dining on the seafood-heavy menu at his restaurants. All of the Mussel Bar & Grille locations live up to their name with a variety of different mussel platters such as spicy Thai green curry, Mediterranean and more. The wood fired Barnegat scallops with roasted cauliflower, cauliflower puree and lemon thyme butter is another seafood dream. With two locations, Brasserie Beck's dishes such as seared spiced tuna with artichoke, barigoule and basil rouille displays the restaurant's skills with fish. Marcel's menu keeps the freshness coming with dishes including roulade of dover sole and fillet of turbotin. Barbo's diverse menu offers entrée's such as wild Alaska seared halibut with tomato risotto and micro basil salad. Wildwood Kitchen provides treats such as grilled swordfish and a mouthwatering Wagyu beef burger.
Spending considerable time on the road, travelling from restaurant to restaurant, Chef McBride stays in contact with his chefs. He has an apron and chef jacket in each location, ready for him to get behind the stove and do what he loves to do. "The inspiration for me is everything hospitality. I love making customers happy, seeing a packed room and hearing a large crowd," he says.
Fans of all Chef McBride's entertaining restaurants and delicious dishes can look forward to more exciting openings throughout the various regions for years to come.