Chef David Banks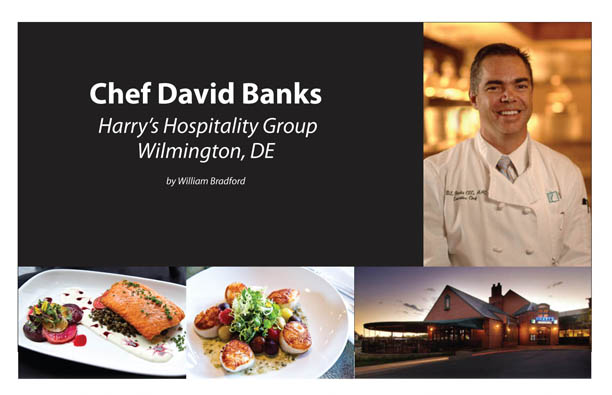 Over the years, Chef David Banks has been busy serving as executive chef of several popular restaurant locations, applying his talents to raise money for a number of charities, competing in national seafood cook offs and more. Yet, he takes the time to speak with Samuels about these experiences during a day off at the beach over the phone.
You can tell Chef Banks enjoys what he does. As a graduate of the Culinary Institute of America (CIA), Chef Banks recalls knowing what he wanted to do for a living at a young age. "I chose what I wanted to do when I was 16 year's old. I've never turned back and never wanted to be in a different field," he says. He mentions, it's the love of food and excitement of the restaurant business that created a passion in him. Upon graduating CIA, Chef Banks earned a position as head chef at Hotel Dupont in Wilmington. He eventually landed a position at one of Dewey Beach's hottest spots on the water, The Rusty Rudder, before making Harry's collection of restaurants his home.
For 26 years, Chef Banks has been executive chef of Harry's Hospitality Group located in Wilmington, Delaware. He started as executive chef of the group's original restaurant, Harry's Savoy Grill. Since then, Chef Banks and his business partner, Xavier Texido have developed a single restaurant into one of the finest hospitality businesses with the openings of Harry's Savoy Ballroom, Harry's Seafood Grill, Harry's Seafood Market and Kid Shelleen's Charcoal House & Saloon.
Harry's will provide for a great time…especially if you love seafood. Harry's Savoy Grill provides for formal, yet very comfortable dining for both lunch and dinner. They offer expertly prepared entrees such as Wild Alaska King Salmon with olive caramel, celery root puree, maitake mushrooms, swiss chard and Salmon Roe. Their beautiful ballroom provides a heavenly venue for any special occasion where they will personalize menus and help plan your celebration. Located on Wilmington's exciting waterfront, with both indoor and outdoor seating, Harry's Seafood Grill offers guests the freshest and most savory seafood available with dishes ranging from a Diver Sea Scallop crudo to sautéed Icelandic Arctic Char. If you'd like a fresh, quick seafood lunch to go, Harry's Seafood Market is the perfect spot. Kid Shelleen's is exciting and fun with a focus on great food with treats such as spicy Crawfish dips to burgers voted "Best of Delaware."
Along with providing amazing food, another focus of Chef Banks' is his charity work. While he's very modest when speaking about it, it's inspiring to hear about his time helping others. He's served as chair of the Share Our Strength "Taste of the Nation" benefit and has helped raise one million dollars in this organization's fight against child hunger. Other charities he's proud to be part of consists of a University of Delaware scholarship, Meals on Wheels, March of Dimes and more. "To me, community is the most important thing we have and being in a community means supporting it," he says.
Further proving his devotion to the culinary world, Chef Banks serves as the northeast regional representative for the American Academy of Chefs. It's this same academy he was inducted into in 2003. You may have also seen him on several occasions appearing on the Comcast Network's "Chef's Kitchen." In addition to his appearance in a National Seafood Cook Off mentioned earlier. Chef Banks took second place in this contest held in New Orleans with an imaginative dish spotlighting a Soft Shell Crab and Rockfish combo, both mid Atlantic classics.
Whether cooking or through supporting charities, Chef Banks applies his diverse range of talents as tools while thriving in an industry he's loved for so long.
Learn more about all of Harry's Hospitality Group's locations at harryshospitalitygroup.com