Chef Clay Conley, Būccan Restaurant, Palm Beach, FL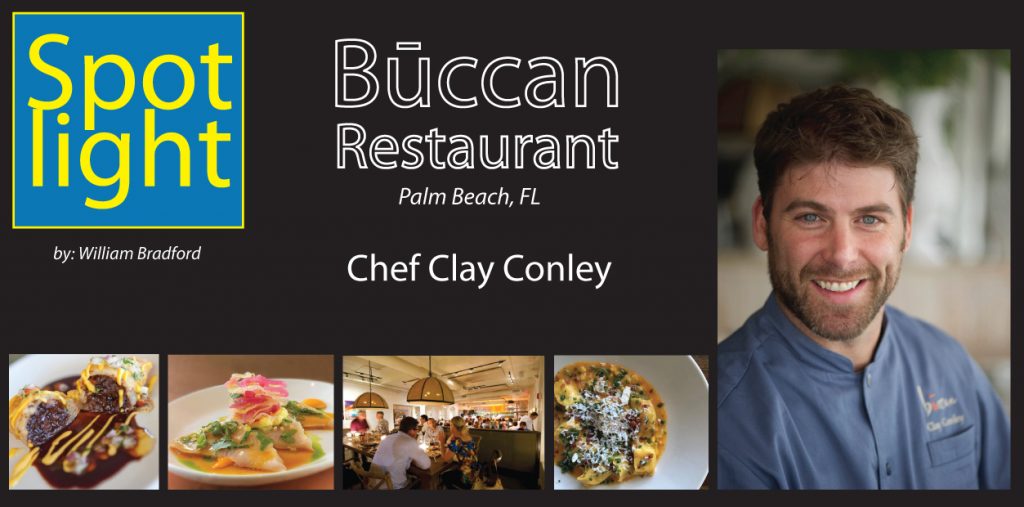 Chef Clay Conley, Būccan Restaurant
by William Bradford
Great chefs like Chef Clay Conley leave a profound path of success to take a risk and start their own venture. That path has led him to own one of Florida's hottest restaurants where he excites guests with big flavors.
Hailing from Maine where he tended to his family's orchard and livestock, Chef Conley began in the restaurant industry as a dishwasher. Chef Conley fell in love with the energy of the industry and worked his way up the restaurant ranks. Eventually, in 1996 he made it to Boston and found himself a protégé of acclaimed and charismatic Chef Todd English. Chef Conley began at English's Figs Restaurant and did such a great job, he opened restaurants for English throughout the world and became Culinary Director of the restaurant group.
In 2005, Chef Conley left English's restaurant group and began a very successful run as executive chef at Azul located in the Mandarin Oriental, a AAA Five Diamond Award winning restaurant overlooking the Biscayne Bay in Miami. In 2011, Chef Conley took the risk to become Chef/Owner for the first time with the opening of Būccan in Palm Beach. "A dream of many young chefs is to own their own restaurant someday," says Chef as he speaks of the hard work and planning he and his partners, Piper Quinn and Sam Slattery, endured. Along with the hard work, experience and talent that went into the opening, Chef also had a vision. "Most dining experiences in the market were very high end and white table cloth. We wanted something casual with great energy," he says.
Indeed there is a great energy at Būccan, mixed with a classy vibe. The menu includes progressive American cuisine and gives Chef Conley the freedom to integrate many influences. Chef has lived and worked in Tokyo. He has visited various countries in Asia, Europe and South America. He mentions he brought some of the Peruvian style of cooking he learned in Miami with him to Būccan. "Būccan is fun because we can integrate so many different cuisines," he says. "My philosophy is big flavors. I want everything to be full flavored with great balance." Being from New England, Chef Conley also brings with him some of the excellent seafood the region has to offer including Lobster, Scallops, Peekytoe Crabmeat and his favorite fish, Wild Striped Bass. However, he enjoys the local Florida seafood as well including Snapper, Rock Shrimp and local Swordfish. He even mentions he's able to bring in Spearfish from local fishermen. Now that's sustainable.
The diversity on the menu is obvious. For a cold dish, the Hamachi Tiradito stars Peruvian chiles, mojo onions, lotus root and yuzu vinaigrette. It's also hard to resist Scottish Salmon with an eggplant puree, fennel, olives and sauce vierge. Along with other wood-fired options, the Octopus Tabbouleh with chickpeas, Datil chili, parsley and mint will offer plenty of flavor. If you're spending a warm day at the beach, Būccan has a terrific sandwich shop offering local favorites such as a classic Cubano in addition to a clever smoked Yellowfin Tuna salad sandwich.
And there's more. A year after Būccan's, opening, Chef Clay opened Imoto. In Japanese, Imoto means "Little Sister." It's a small expansion of Būccan that really highlights his skill with Asian cuisine where you can enjoy Peking Duck Tacos, Japanese Snapper Crudo and the finest sushi options. Most recently, Chef Conley and his partners opened Grato in the Dixie Corridor section of West Palm Beach. Grato shows off more of Chef's diverse skills by providing a rustic Italian menu. The pasta is homemade, the pizza is cooked in brick ovens and the menu offers Italian inspired dishes that has been well received since the opening. This year, he received his third James Beard nomination as Best Chef: South.
You can imagine how much of a great time you can have in Palm Beach, Florida. With Chef Clay Conley leading the way of the culinary scene, you can revel in great food as well.