Tre Famiglia Ristorante, Haddonfield, NJ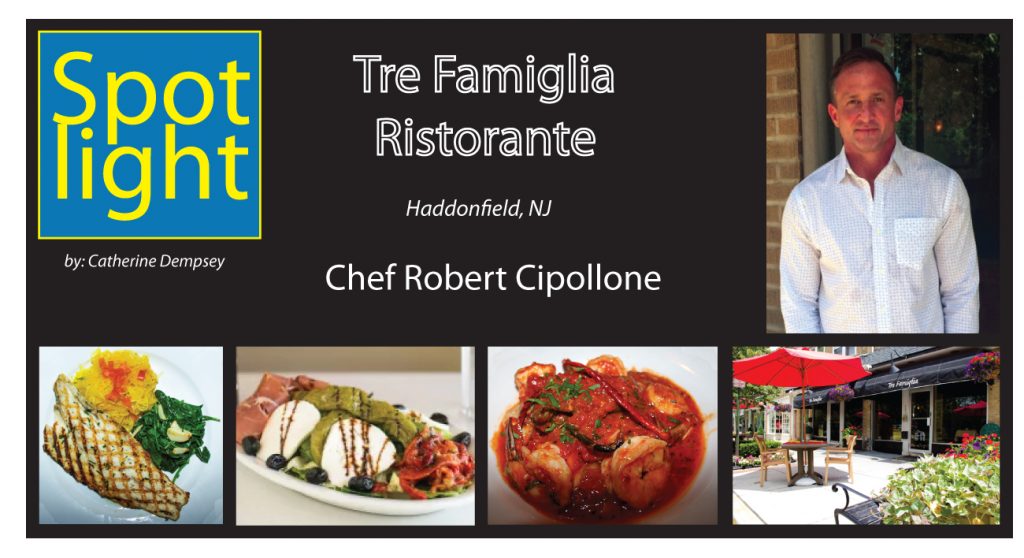 Tre Famiglia Ristorante, Haddonfield, NJ
Chef Robert Cipollone
by: Catherine Dempsey
"I started [cooking] when I was about five years old," says Chef Robert Cipollone. "I was butchering meat and filleting fish by the time I was 11 or 12 years old." For Chef Cipollone, cooking is just something that comes naturally – he's the head chef and part owner at Tre Famiglia Ristorante in Haddonfield, NJ where everything is a family affair.
The restaurant was originally founded in 1903, in Philadelphia's Italian Market and named Chip's Italian Restaurant. The Cipollone family made the decision to move operations to South Jersey in 2005. "We prompted the move in the late 1990s and opened here instead," he says.
Tre Famiglia's history can be traced back over four generations of family and it's been an all-hands-on-deck production. "Recipes have been handed down from generation to generation," Chef Cipollone says. "We like to maintain that tradition around here, but with a slight flare on things."
Overseen by the family's patriarch and mainstay, Vincent "Chip" Cipollone, Tre Famiglia's personality and passion can be found in both the food served and the people serving it – after all, they've been working together all their lives. "I remember saying we should film what goes on here," Chef says with a laugh. "There are endless moments, and I could tell you stories forever."
He works closely with his sister, Angela, who runs the front of the house, from catering events to greeting guests. Chef Cipollone, on the other hand, prefers to shine in the backend of things, allowing his cooking to speak for itself. "I love to blend different cuisines, like Asian and Mexican," he says. "Taking that technique and applying it to Italian cuisine and seafood incorporates something different and interesting."
Chef Cipollone is hardly a creature of habit when it comes to his dishes. "I don't like repetitiveness," he says. "Daily specials keep things fresh for us here, and we like to keep it interesting." Chef has a lot of love for all things seafood, and his favorite to eat is calamari. As far as the future of Tre Famiglia goes, he says he would love to open up a seafood place. The family prides themselves on featuring only freshly caught fish, and their dishes are original and classic at the same time. Calamari Fritti and Mussels Possillipo are traditional staples, while the Grilled Apples and Shrimp mixes savory and sweet with Granny Smith apples, candied walnuts, maple honey dressing, and topped with goat cheese & jumbo grilled Shrimp. Chef plays with spicy flavors with his Linguine & Shrimp Diablo — jumbo Shrimp are sautéed in a spicy marinara sauce and tossed with fresh linguine.
As much as there is a passion for food, the real catalyst for the family's success is the love and respect they have for each other. When asked about the dynamics of working so closely with family, Chef honed in on the importance of having people you can trust. "You need to pick the people with the right strengths," he says. "We're making these large dinners in a small kitchen. It's unbelievable. You have to have the best people with the pride and consistency needed to stay around."
At the end of the day, whether home is in Philadelphia or New Jersey, Tre Famiglia has genuinely good and hearty family-style meals down to a science. The proof is in the pasta, seafood, meats, and the love of the family that makes it all happen. For Chef Cipollone, that love and passion for exceptional food was instilled in him in those early years working in the kitchen at the age of five, and it hasn't left him. Every day, it is brought to life in his adoration for what's most important – amazing food on the table and equally amazing people around him.
Visit Tre Famiglia Ristorante online: trefamiglia.com