Chef Jeff Malloy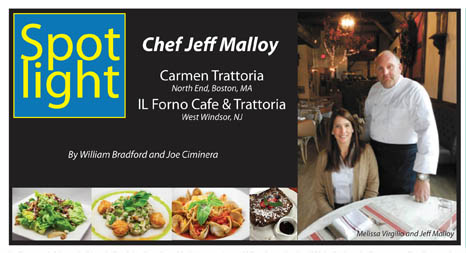 In Boston's historic North End, Italian food is king and Chef Jeff Malloy is using his experience in Italian cuisine to help Carmen Trattoria take the throne.
After honing his skills at some of Boston's finest restaurants such as Pulinella, Pomodoro, IL Panino and Prezza, Malloy opened Carmen Trattoria in 2001.
Malloy, a native of Summit, New Jersey, who comes from an Italian background, began cooking with his mother when he was 8-years-old. He studied at culinary institutes in New England, but really found his calling while training in Italy. During his time in Florence and Tuscany, Malloy fell in love with the food and atmosphere of Italy. He decided he wanted to bring his experiences to Boston.
"I was looking around in the North End and I found the perfect spot for a wine bar and trattoria that reminded me of Florence," said Malloy. The charming site he came across is now home to Carmen Trattoria.
Carmen's has been named the "Best of Boston" winner by Boston Magazine an incredible 5 times, as well as being lauded a "Top 5 Italian Restaurant in Boston" by Zagat.
When you sit down at Carmen's, after the wine has been poured, you have both sweet and savory small plate options such as Marinated Olives with Hot Pepper and Orange. Next is a diverse list of first courses including local seafood catches such as Steamed Wellfleet Clams with Hot Homemade Mustard, Fennel and Cream. The pasta selections provide perfect, hearty dishes to come in from the cold such as Black Pepper Tagliatelle with Sautéed Shrimp in a Pesto Cream Sauce with Sundried and Plum Tomatoes. The seafood options at Carmen's might take the prize, though. Their entrée of Seafood Brodetto with Mussels, Clams, Shrimp, Rock Shrimp, Scallops, Calamari and Haddock in a Roasted Garlic, Fennel and Tomato Broth is tough to beat.
At Carmen Trattoria, they use only the freshest fish, meat and vegetables for their dishes. "We want you to taste everything we've incorporated in the dish and be able to taste exactly how fresh the ingredients are," says Malloy. His cooking style emphasizes creativity and the use of a wide array of ingredients. Whether it is Wild Striped Bass or Scallops, he personally changes the menu depending on the current season.
It is not only the delicious food, but also the hospitality that sets Carmen Trattoria apart.
Once home to Paul Revere, the North End is one of the oldest neighborhoods in Boston. Today, the North End is among the elite when it comes to destination restaurants. While this region has great food options from fresh seafood to decadent desserts, it is known for its great Italian restaurants and with its warm and cozy atmosphere, Carmen Trattoria is a great spot to get out of the New England cold. The staff at Carmen's are always friendly, greeting customers before seating them for an enjoyable night with bountiful, authentic, Italian cuisine. The vibe at Carmen's is perfect for storytelling, laughing and plate sharing.
Malloy speaks about a recent rejuvenation of Italian cuisine that North End chefs have embraced within the past 15 years. "We wanted to reinvent the Italian restaurant scene in a great neighborhood such as the North Side," said Malloy.
Malloy made his return to New Jersey when he opened Il Forno with his business partner, Melissa Virgilio, in Princeton last year. The ambience is just as inviting as Carmen's and the food is just as irresistible. In fact, Malloy brings the staff of Il Forno to Carmen's for training. Il Forno is home to Malloy's custom brick oven which is imported from Italy and makes some of the tastiest pizza in New Jersey. Il Forno also offers gluten free pizza crust and pasta options so everyone can enjoy the wonderful fare.
The options for Italian food in Boston are certainly plentiful, but if you should happen to find yourself in the North End, stop by Carmen's and you'll be sure to have a memorable evening.
Please visit Carmen Trattoria online at: carmenboston.com, and Il Forno at
ilfornowestwindsor.com