Chef Willie Brockington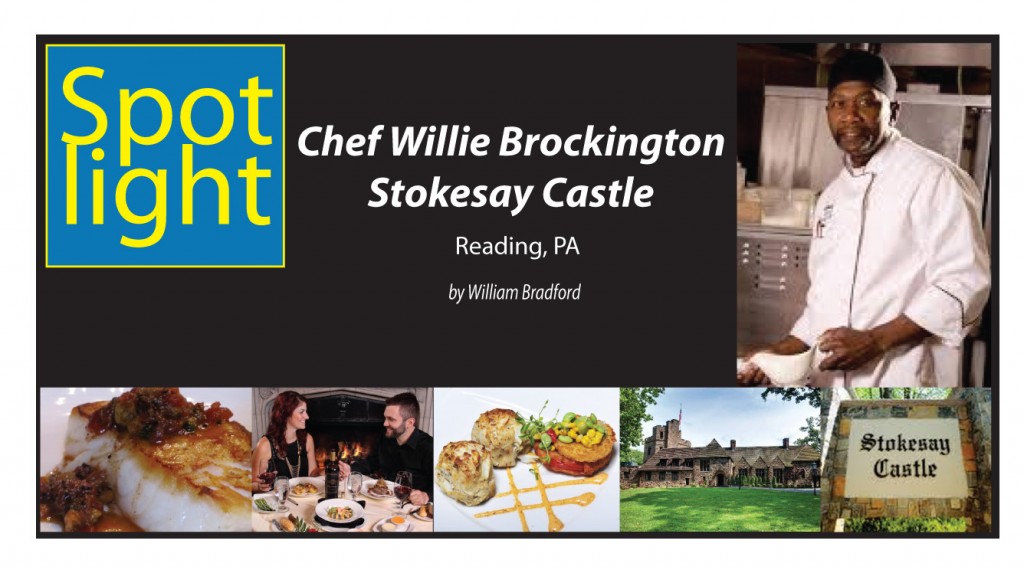 driving up Mount Penn to a beautiful, medieval style castle that has been overlooking Berks County for more than 80 years.
Upon entering Stokesay Castle, you're led into an atmosphere of elegance. You can sense the rich history of time with tapestry, art and furniture paired with the cuisine of Chef Willie Brockington. It's a great experience that begins with the castle's history. This castle was originally built in 1931 as a wedding gift from the owner to his bride. The castle was built to resemble a 13th century English castle of the same name. Located on 10 acres of property, Stokesay's architecture includes hand carved beams, leaded windows and custom hardware. The castle was transformed into a restaurant in the 1970's where it delighted guests until it's closing in 2007. With fond memories of Stokesay Castle, Berks County businessman and philanthropist, Jack Gulati, rescued the castle in 2009. Mr. Gulati was dedicated to making the castle both memorable and modern. He carefully chose the perfect chef for the job of leading the kitchen and providing fantastic, memorable, gourmet meals.
While many chefs drive into the city or parking lot of their restaurant, Chef Brockington pulls up to a castle of which he has been executive chef since its restoration in 2009. Born in South Carolina, Chef Brockington learned the many great lessons of delicious southern cuisine by cooking alongside his mother. "People from the south are always cooking for anyone who may stop by. It's hospitality," he says. Eventually, Chef Brockington moved to Reading, PA before attending Pennsylvania State University (PSU) to study education.
While in school, he held his first chef position behind the line at the French inspired La Chaumiere restaurant. It was here he cultivated his skills in French cuisine and decided to become a chef. Having cooked at several restaurants, he eventually earned a position at the Showboat Casino Hotel in Atlantic City for its grand opening. After a successful decade cooking at the Showboat, Chef Brockington returned to Reading, PA as Executive Chef of the Reading Country Club. In 2009, Jack Gulati persuaded Chef Brockington to run the kitchen at Stokesay Castle.
Since the opening, Chef Brockington has integrated his French culinary influence along with southern versatility in the kitchen creating a fine dining restaurant featuring American cuisine. To pair a menu with a great venue such as Stokesay Castle, Chef Brockington taps into his extensive culinary background. His dishes are carefully prepared with perfect ingredient combinations and the freshest products to provide an enticing, exceptional menu. The dishes are just as memorable as the building itself, yet, warm and comfortable. To this day, he still holds onto his roots of southern cooking. "Your roots will always be a part of you, and that's a good thing," he says. "There are similarities between southern cooking and French cooking. A lot of the same methods and practices are applied, just with different ingredients," he adds.
The Lords Dining Room provides fine dining. Appetizers such as Champagne Scallop Soup or Smoked Trout immediately shine light on Chef Brockington's mastery of fresh seafood. When it's time for the entrées, there are divine choices such as Pan Seared Sea Bass with creamy basil sauce and Horseradish Crusted Salmon with chive buerre blanc. The Knights Pub is another part of the castle that offers a relaxed experience with beautiful scenery of the landscape and dishes such as Broiled Jumbo Lump Crab Cakes and Seafood Fra Diablo with Shrimp, Scallops & Mussels in a mildly spicy marinara sauce over linguine. "We're always experimenting here to create the next signature dish, every day is a new experience," says Chef Brockington.
Along with evenings of fine dining or enjoyable happy hours, Stokesay Castle also has gorgeous ballrooms and more intimate rooms for occasions ranging from wedding receptions, anniversaries, birthday parties and more.
Explore Stokesay Castle and Chef Brockington's menus online at www.stokesay.net