Chef Mike Everd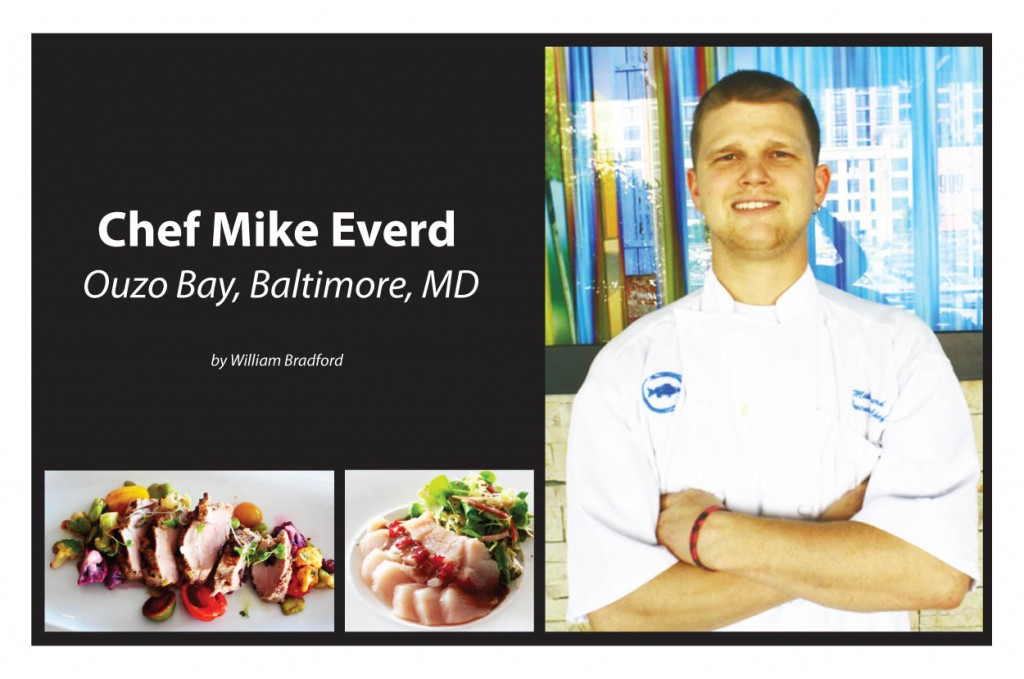 There are a number of reasons why Ouzo Bay is one of Baltimore's most popular restaurants. One is the beautiful location on the waterfront in Harbor East, a new Baltimore neighborhood overlooking the harbor. Two, it provides guests authentic Greek cuisine and fresh seafood from all over the world. And three, because this top voted restaurant has up and coming, 28 year old, Chef Mike Everd leading the way and helping redefine dining in Baltimore.
Many great chef stories begin with a family history of culinary skills. For Chef Everd, it started when he walked into a bagel shop and was offered a job at the age of 15. After working there for several years, his talent for cooking and running a kitchen grew and he eventually attended the Pennsylvania College of Technology where he earned a bachelor's degree in culinary arts and science. While studying, he landed a position at nationally acclaimed, Roy's Pacific Rim Cuisine of Baltimore. "I'd drive three hours home to work all weekend at Roy's and drive three hours back," says Chef Everd as he recalls his days travelling between school and work.
It was during his time at Roy's when Chef Everd received a call from a former colleague in need of a sous chef at Ouzo Bay, Chef Everd gladly accepted the offer. After gaining a wealth of experience with Asian fusion cooking at Roy's, Chef Everd quickly learned about Greek cuisine by working away in the kitchen and studying cookbooks, which he adds, is a great tool for any chef. His talent and hard work paid off when he became executive chef of Ouzo Bay.
Chef Everd began experimenting with favorite Greek spices and herbs such as cinnamon, cloves, star anise and more. At the same time, he brilliantly applied Greek cooking styles to his knowledge of Asian cuisine. "Most of our guests want the traditional dishes, however they're foodies, so they are always looking to try something new," says Chef Everd. "Utilizing my skills from Asian and Greek influences allowed me to create amazing dishes." He recalls his Mexican Bluefin Tuna Crudo, a popular dish which guests raved about. Chef brought out the best of this high end fish with a variety of ingredients that highlight all the natural flavor of the Tuna. Using black lava salt for an earthy, crunchy flavor mixed with a cumin citrus vinaigrette provided a flavorful mixture of sweet and sour. With this flavor, the ruby red color of the fresh Mexican Bluefin Tuna created a dish visually appealing to both the eye and pallet.
Offering guests the best fresh seafood available, Ouzo Bay has a colorful and sleek atmosphere which includes a full, fresh fish case displaying favorites such as Hiramasa, Tai Fagri and other exotic beauties that guests may have never seen before. Ouzo Bay also serves classic Mediterranean whole fish such as Bronzino and Dorade cooked on a six foot long charcoal grill designated just for seafood which often has up to 20 fish grilling on it at one time. Chef also offers universal treats on the menu such as Alaska Halibut, Seafood Pasta, Jumbo Prawn dishes and some specialties from the land. "To me, there's nothing better than getting great feedback from our guests, being able to create a meal that they enjoy so much," says Chef Everd. At the end of every meal, Ouzo Bay treats guests to a shot of ouzo. This pearly white colored, anise flavored drink is a Greek classic and perfect cap to a great meal.
Delivering the full experience of Greek cuisine with fresh seafood along with the beauty of East Harbor Baltimore, Chef Mike Everd is keeping Ouzo Bay a restaurant that is enjoyed by Baltimore locals and a destination restaurant to visit for travelers. Please visit Ouzo Bay online at ouzobay.com