Early Bird August Special: Oishii Shrimp!

Are you ready to throw conventional Shrimp aquaculture practices out the window in favor of the freshest, tastiest Shrimp you could imagine? This summer, Oishii White Vannamai Shrimp will give you just that. Using ground-breaking technology, Oishii Shrimp go from swimming to frozen, and on their way to you, within 4 hours. This results in an unreal, straight from the water freshness that redefines delicious Shrimp. In fact, Oishii, in Japanese, is the word for delicious.
Oishii Shrimp was born out of the passion for crafting superior Shrimp. And through years of research, a decade of planning, and amazing scientific advancements, Oishii has become a game changer with exceptional color, texture, and flavor. Oishii Shrimp is also an environmentally friendly product that is Best Aquaculture Practices (BAP) certified with 3-stars. This ensures the top standard for sustainability and encompasses all quality assurance and control through every stage of the Shrimp life cycle.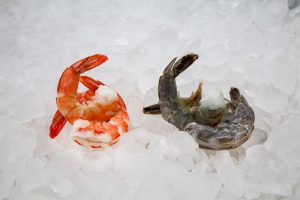 The key to this success lies in small-batch aquaculture methods, proprietary pond construction, strict water quality monitoring and most importantly, cutting edge techniques which allow Oishii Shrimp to be the first Shrimp harvested and processed live. That's right, live! This is the next level of freshness.
Chefs choose Oishii Shrimp to wow their guests with amazing plate presentation and impressive quality. That's because your creative, carefully constructed dishes rely on the taste and quality of your ingredients like superior Shrimp. The quality and taste of Oishii will dazzle in dishes whether it comes to adding the perfect satisfying crunch to your ceviches, salads, and cocktails or imparting the impeccably mild and sweet, slightly nutty, buttery flavor into your soups, stews, and pastas.
This month, you can find U/12 Oishii Shrimp on special for $11.95/lb, sold in a frozen 20 lb case. And trust us, you'll be blown away!