Paxos Restaurant Group, Lehigh Valley, PA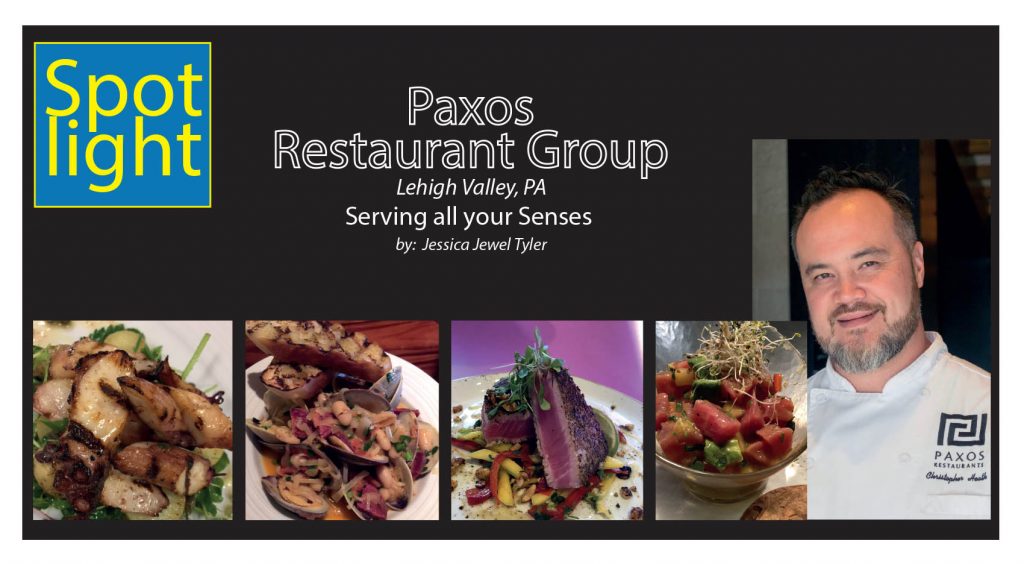 Serving all your Senses
Paxos Restaurant Group, Lehigh Valley, PA 
by: Jessica Jewel Tyler
Since 2002, Paxos Restaurant Group has been changing the fine dining scene in Lehigh Valley, PA by bringing the city a little closer to the suburbs. From humble beginnings, George Paxos dedicated his career to the restaurant business at a young age before creating the Paxos empire. Each of the five restaurants is a monument to fine food, service, and design, with dishes handcrafted by amazing chefs and atmosphere created by famed designer, Jeffery Beers International. These ingredients are the only thing that connects them however, because no two concepts are alike.
Melt was the first Paxos restaurant to open in 2002 with the help of corporate chef, Chris Heath. He holds the same passion that inspired Paxos which started young when helping his mother cook Filipino food. His first official kitchen job was at age 14, where he eventually became a prep cook. After falling in love with cooking, he perfected his craft at the L'Academie de Cusine in Washington DC and traveled the world. Before Paxos, Chef Chris was a Caribbean chef in Angora, but he's cooked all over the world including New York, London, Italy and Thailand.
This experience is the reason he was chosen to handle such diverse concepts that include everything from Italian to Mexican with a modern and upscale feel. As corporate chef, he works with the executive chefs to tailor the menus to each theme. And although he is more "stationary," Chef Chris still explores many cultures through food. "Being able to play with food from around the world is the best part of my job," he said.
Melt, Paxos' Italian concept, sweeps you into a romantic Big Apple getaway. According to Melt's architect, Howard Kulp, "the restaurant's contemporary, chic style is extremely New York driven." The two-story dining room features art deco furniture and avant-garde lighting that remind you of the ziti being served. The plates are just as visually pleasing (and scrumptious.) The secret to Melt's menu is traditional sauces prepared with a bold twist and presentation. Chef Chris also clamored over his seafood dishes including grilled Astan Tuna in a salsa romesco sauce that marries Italian cuisine with Spanish influence.
Blue has a very stylish bohemian feel with pops of cerulean and cobalt found in jazzy patterned rugs and whimsical vases. Nearly 2,000 blue LED lights also add a touch of magic to this energetic bar scene. The menu focuses on upscale southern American favorites like Barbeque Baby Back Ribs and smoked chicken, but adds a twist of French and Italian influence. Some of Chef Chris' favorites are the pan seared Chilean Sea Bass with a roasted root vegetable ratatouille and green herb pesto.
Torre stands out from your average Mexican restaurant in style and flavor. The industrial feel with classic wood and brick is juxtaposed by the hanging, hand-painted sugar skulls and a color-changing, three-story tequila tower filled with over 80 bottles. The fun eclectic style is carried over into menu items, like the once featured tamarind-glazed Mahi with chayote slaw and passion fruit vinaigrette. Torre's interpretations of Mexican cuisine are creative, decadent, and delicious – the options go beyond burritos to explore ceviches, and other seafood options like Astan Tuna with spiced peanuts.
Firepoint Grill features a very sleek, urban design and an impressive wood-burning oven as the center of attention. This American menu also plays with other cultures, but in this case, focuses on comfort food. Pizza, lasagna, burgers, and buttermilk fried Oysters reign supreme here. But there are also nods to Paxo's Greek heritage with a cheesy vegetarian moussaka.
Top Cut is the latest addition to the group. Located on the top floor of Melt, it features neutral colors and elegant style. The expansive 5000-bottle wine display and panoramic view add a moody, romantic atmosphere that works perfectly for this stylish steakhouse. Of course with a name like Top Cut, there are top selections of prime beef, but there's also an extensive selection of seafood. Chef Chris's favorite is the Dover Sole in a mustard hollandaise sauce.
"Our restaurant philosophy is not just about the food. It's the service and atmosphere," says Chef Chris. And it's clear – no matter which Paxos Restaurant you chose to dine in, you're sure to impress all your senses.