Equinox, Washington, DC – Leading a Food Revolution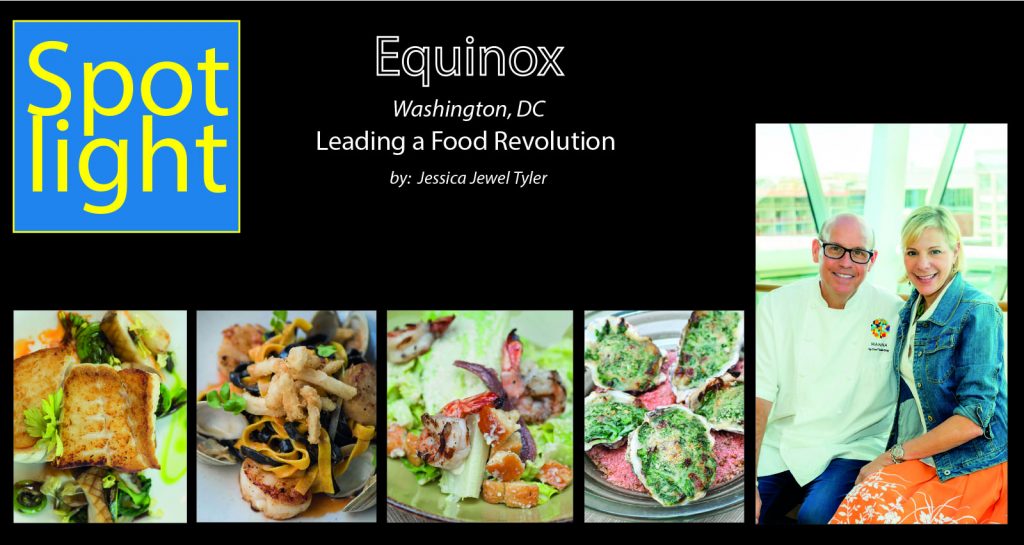 Equinox, Washington, DC
Leading a Food Revolution
by: Jessica Jewel Tyler
Farm-to-table is a concept we've been hearing about for the last few years, but this D.C. restaurant is celebrating 20 years of doing local, seasonal, and sustainable food before there was even a name for it. Chef Todd Gray's 95% waste-free restaurant, Equinox, is credited with pioneering the sustainable food movement in D.C. and starting a culinary renaissance in our nation's capital. Chef Todd is also highly praised for creating a place where vegetarians, pescatarians, and meat lovers can dine together in perfect harmony. With a variety of creative plant-based plates and hearty seafood and meat options, there's something for everyone.
According to Chef Todd, his inspiration came from watching the way farmers eat, along with the food he experienced during his travels. What he created was a new and innovative take on American cuisine that's rooted in the European techniques he mastered at the Culinary Institute of America. The menu was also influenced by his trips to Israel and the Mediterranean. Ingredients like za'atar spice, almond crusts, and date infused sauces often find their way into menued dishes. You can really see the Mediterranean sway in the pan-roasted Octopus served with cannellini beans, castelvetrano olives, and broccoli rabe.
Another influence for Chef Todd is Equinox's general manager and Todd's wife, Ellen Gray. Despite Chef Todd's five James Beard nominations, he confessed that his favorite cooking is his wife's. Chef Todd and Ellen met while working in the industry, but she was not a chef. However, because she is a vegetarian, she often makes very creative plant-based meals at home and happens to be a very good cook. She has inspired Equinox's spiced lentil ragu among other dishes.
The way Equinox utilizes its seasonal vegetables shows how truly versatile you can be while only using what's available to you. Take eggplant for example, Chef Todd serves both fire roasted eggplant purée that comes with the stuffed, grilled Rainbow Trout and spiced eggplant chips that are served with smoked cinnamon baba ghanoush. Artichokes are another example. They are served carmelized, "Alla Romana" style, and the hearts are also used in the chilled heirloom carrot consommé.
Creating amazing dishes using seasonal ingredients like eggplant, artichokes, and rhubarb is a passion for Chef Todd, but he revealed that he looks most forward to the changing seafood seasons. Chef Todd says he gets excited for Barnegat Light Scallops, Stone Crabs, and Soft Shells all year. A favorite dish he's done in the past featured Soft Shell Crab on tahini grits with Meyer lemon sauce.
Equinox's signature dish is their barbequed Jail Island Salmon served with sweet peas, corn succotash, and lemon-crab beignets. This dish perfectly marries simple, quintessential American cuisine with sustainable, seasonal ingredients – especially his choice of Salmon. Jail Island Salmon is raised in an environmentally friendly manner and proceeds from its sale go to the Fundy Salmon Recovery project, which aims to increase the number of endangered wild Salmon in the inner Bay of Fundy.
From the reusable silicone coasters to the 500 pounds of compost a week Equinox produces, every aspect of the restaurant is focused on the environment. The art that graces the wall even features portraits of vegetables by neighborhood artists, seemingly as an homage to all things green and local.
Todd and Ellen continue to find ways to lower their waste and strengthen the sustainability movement in D.C. Some of their favorite projects are the "Not Wasted" dinners the couple hosts. During this event, chefs and artists transformed "upcycled produce" into art and culinary delicacies. Some examples include carrot-peel soup, a canapé that uses strawberry-hull pesto and a cobbler made of sweet potato and apple trimmings.
Chef Todd plans to continue these events and others in hopes of inspiring others to lower their food waste as well. He says he's always willing to help other chefs because it's not about competition, it's about having a positive impact – on people, the planet, animals, and wherever else they can. We at Samuels are rooting for this progress. D.C. already made news by becoming the second city to ban plastic straws. With chefs like Todd and Ellen Gray at the forefront, we are certainly on track for some more big changes.