Featured Special: An Underappreciated Shellfish

Crawfish are this week's featured special. An oft-forgotten Shellfish, Crawfish had humble culinary beginnings in Louisiana. The Acadians, French-Canadian immigrants who would later become the Cajuns, sought a Shellfish option to fill in for the beloved Lobster they enjoyed in Canada. One way or another, they found their answer from Louisiana's Native population: Crawfish.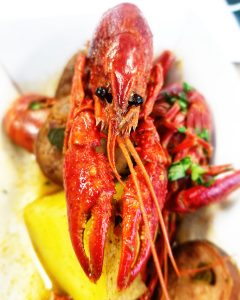 Once they learned how to catch the abundant Shrimp-like creatures, it was off to the races! Crawfish's sweet, tender meat made them a great choice for a bevy of applications. Today, Crawfish dishes have spread across the country. Most popularly, Crawfish are used in Cajun Gumbo, a spicy combination of Shellfish, peppers, andouille sausage, and a thick stock. They're also used often as a complement to fried Catfish fillets, as well as in the bold Crawfish Pot Pie. But there's nothing quite like sitting together at the table and pickin' and crackin' these bad boys yourself.
As summertime winds down, you'll definitely want to boost your menu with bold options that customers don't see every day, or just provide your family with a memorable dinner. Luckily for you, you can find our Cooked Whole Crawfish on special for all of September. Our Crawfish are 16/20 size, and are sold in a frozen 5 x 2 lb case for $3.99/lb, making them both taste bud and wallet friendly! Try pairing these 'Crawdads' with Kurobuta Pork Sausage in a Cajun Boil, or use J.O. Crab Spice to season them up for a Craw-feast! Call your Samuels Agent, or join the Seven Fish Club at Guiseppe's Market to place an order today.