Have You Tried Kurobuta Porkers?

Berkwood Farms Kurobuta Pork is the best option for chefs looking for top quality Pork. Now available at Samuels, Kurobuta is a red hot item that our chefs just can't get enough of. What makes Kurobuta stand out is Berkwood Farms' commitment to humanely raising heritage Berkshire Pigs without the use of hormones or growth promotions. Berkwood Farms' unrelenting standards and exceptional knowledge produce a product that's guaranteed to impress.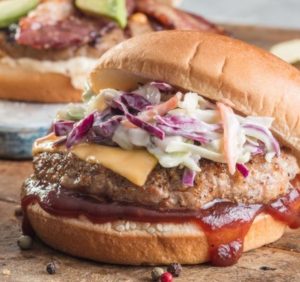 This month, in addition to featuring our full line of Kurobuta products in Fish Tales Magazine (which you can read here), Samuels is offering a month-long special on signature Bacon Cheddar Porkers. You may be wondering, "What exactly is a Porker?" Well wonder no longer! Made with 100% Berkshire Pork and stuffed with smoky Bacon and Cheddar Cheese, Kurobuta Porkers are mouthwatering burger patties that are a fantastic addition to any menu.
Porkers are the perfect combination of authentic flavor, reasonable cost, and convenience. Your restaurant or dinner table will not have to sacrifice quality in favor of convenience. For just $5.25/lb, your restaurant can bring the best pork burgers in the business to the table! Sold in frozen 25 lb cases, you have until October 1st to take advantage of this deal.