Kitchen Consigliere, Collingswood, NJ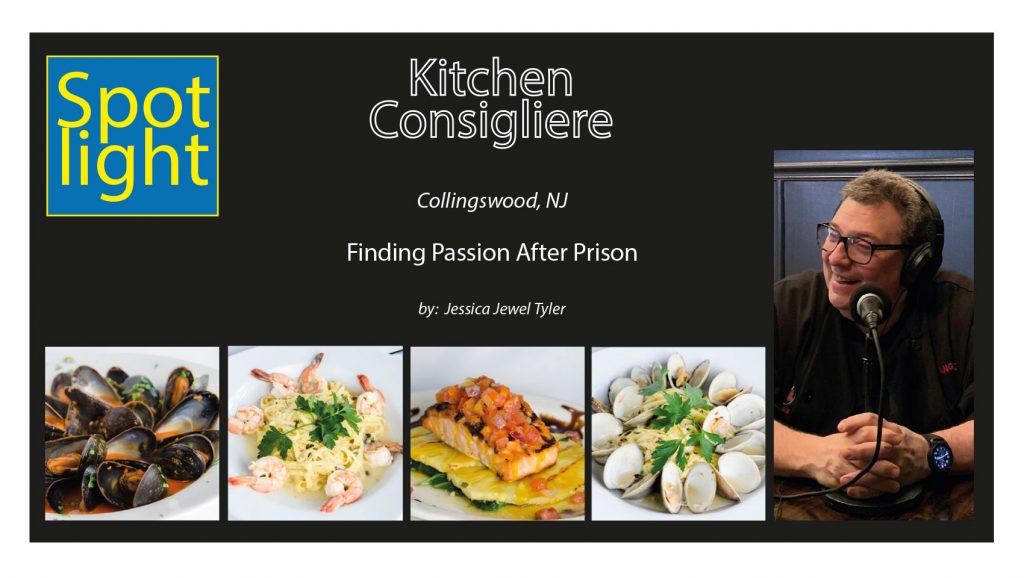 Finding Passion After Prison
by: Jessica Jewel Tyler
If you stay up late binge-watching true crime documentaries and cooking shows, then you're in for a real treat. Playfully decorated with sconces shaped like nine-millimeter handguns, famous gangsters on the wall, and a mugshot backdrop, Angelo Lutz's Italian Restaurant, Kitchen Consigliere, is an homage to his former ties to the Philadelphia mob. His inspirational story, however, shows just how much you can learn about yourself when given a second chance.
In December 2001, Angelo was indicted on racketeering and gambling charges, but his big personality made him famous. While free on bail, his humor and various antics took center stage in the courtroom and in television interviews, which gave him a huge media presence. The night before he entered prison, Angelo, who was already known to make pork chops for his associates, cooked one last time as a farewell. This event was covered by Fox 29 reporter, Jen Frederick, who referred to Angelo as "the kitchen consigliere" – consigliere, meaning a criminal advisor in Italian.
This is when Angelo discovered that he was a "cook, not a crook." After serving nearly seven years in federal prison, Angelo was released in 2008 and ready to use his lemons to make lemonade. In 2010, despite difficulty acquiring a loan due to a criminal past, he opened Kitchen Consigliere with just 30 seats. But after a good deal of well-deserved press and popularity, Angelo managed to hire a decorator and expand his restaurant into the beloved Italian eatery it is today.
After being given a second chance, Angelo is proudly dedicating all the time and effort he used for "the bad things," to cooking because it's something that "comes naturally" to him and he feels like he has wasted too much of his passion and talent. "There are two things I love to do, that's cook and talk," he says. At the Kitchen Consigliere, Angelo experiences his greatest joys every day while sautéing in the kitchen or sharing stories with his guests in the dining room.
His menu focuses on decadent Italian comfort-food inspired by the cooking of his mother and grandmother. While watching them in the kitchen growing up, he learned everything he knows – today he still makes some of the same recipes. His inspiration also comes from a desire to please his customers. Through this experience, Chef Angelo has gained a deep understanding of his clientele and what they like, so he can anticipate taste buds.
He creates tantalizing dishes by serving big, tasty portions and smothering dishes with Shrimp, Crabmeat, and/or Scallops, or as he calls it "the big three." In this way, he sticks to his traditional Italian "sauce house" concept, while getting creative or guiding his guests to try something new every once in a while. For example, he introduced Bronzino as a special by serving it Francaise and topping it with Jump Lump Crabmeat and Shrimp.
The Kitchen Consigliere's seafood dishes sway mostly toward the neighborhoods top picks – shellfish. He is known for his Mussels, Calamari, and his Clams and Macaroni. He says the secret is just really clean, fresh, quality seafood, like P.E.I Mussels. He even breaks out the Langostino, for a pasta dish with spinach, Sun-Dried Tomatoes, and scampi sauce that the guests "go crazy for."
Chef Angelo also caters to his guests by featuring other favorites, like the Mediterranean Salmon dish, on his menu all year. He doesn't let things get boring however if Angelo has learned anything, it's that change is good. He tries different fish dishes occasionally, like pistachio-crusted Mahi and he's even thinking of adding a fish of the day to his concept.
To hear more about Chef Angelo, his adventures, and his love of seafood, you'll have to stop in for a bite. In the meantime, you can listen to our Monger podcast! We sat at the famous Kitchen Consigliere round table with Chef Angelo in episode number 13. Here we discussed his past, present, and future with more detail about prison life and starting over afterward. He's had many hurdles, but Chef Angelo has now built a brand and career on his winning personality, passion for cooking, and the support of his community. We hope his story will inspire others to start over and follow their dreams.