Featured Special: Nordic Rosefish

Our featured special this week is Nordic Rosefish.
Due to their appearance, Rosefish are often mistaken for Snapper. But these fish are in the genus Sebastes, the same genus as popular food fish like Yelloweye Rockfish. Nordic Rosefish are a deep-water species that live 100-1000 meters beneath the surface, and have become a very popular choice at restaurants today.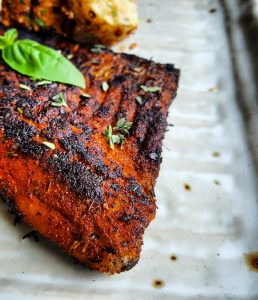 One of the most unique things about Nordic rosefish is its versatility and consistency. The 5-8oz fillets are perfect for any cooking application and work as both an appetizer and an entrée. The best part about Nordic Rosefish that the edible thin skin gets crispy every single time and tastes absolutely delicious. The flesh also does not disappoint – It's similar to the flavor of a Snapper with the texture of a Grouper. This is a unique and tasty, versatile fish that can roast, pan sear, steam, fry, broil, bake, poach – and even smoke!
However, unlike Snapper or Grouper, this fish is reasonably priced for higher profit margins and lower food cost! This month we're offering a special price of only $7.99/lb. That's why so many chefs who have tried this fish have instantly fallen in love with it. It's a great opportunity to introduce your customers to an imported wild fish at a great price.
Act fast because this special price will only last until May 1st! Contact your Samuels agent today for more information, and to place an order.