Boost Your Menu with Breaded Oysters

Gourmet Breaded Oysters are a mainstay on menus across the country. Customers love them for their crunchy exterior and sweet, briny interior. And while Oysters are most popularly enjoyed raw on the half-shell, Breaded Oysters give less adventurous eaters the chance to enjoy these morsels as well!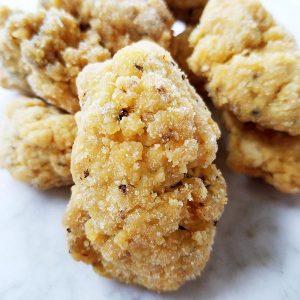 These Oysters are popularly served as an appetizer served alongside a dipping sauce. You can serve them with Aunt Connie's Famous Cocktail sauce for a classic flavor. And if you're feeling spicier, Kewpie Mayo, also available at Samuels, makes for an excellent base for a chipotle or habanero sauce. Breaded Oysters can also be used atop salads, or served up on a warm roll with lettuce and tomato for a mouth-watering New England-style Po-Boy.
You can find these 25/35 size Gourmet Breaded Oysters on special for all of May for $39.00/case. Frozen to ensure freshness, just unthaw these tasty treats and throw them in the fryer for a cost-effective new menu addition. Speak with your Samuels agent today to place an order.