Alla Famiglia, Where Dinner is the Show, Pittsbu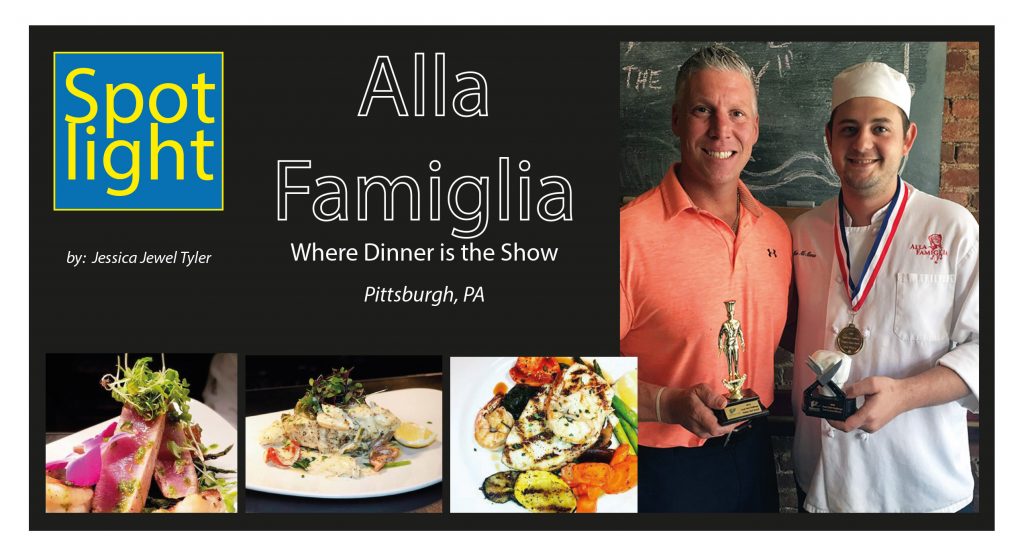 Alla Famiglia,
Where Dinner is the Show, Pittsburgh, PA
by: Jessica Jewel Tyler
"We represent all the things in life that are most important, and that are often faded away," says Chef/Owner Jonathan Vlasic. This is his philosophy when it comes to his Italian restaurant, Alla Famiglia, in the Allentown region of Pittsburgh, PA. After expanding his space into the beautiful adjacent theatre, he kept the depression era décor and exposed brick, to bring back the old world charm and constantly remind us of the men who built the buildings.
The menu also honors the past, with a special dedication to the Burzese family, their passion for food, and dedication to vintage Italian techniques. However, the traditional, delicious food is executed with theatrical flair to help embody the classic Hilltop Theatre that used to be. At Alla Famiglia, dinner is the show.
Alla Famiglia has come a long way from the eight table restaurant it was in 2005 when Chef Jonathan bought it. Now, in each one of six dining rooms, with slightly different personalities, you'll find a gothic, moody, New York style with a dramatic motif, painted proudly in Pittsburgh black and gold. The Italian masquerade masks and art deco adornments also add elegance with a touch of warmth and whimsy that is extremely fitting for Alla Famiglia. This is the place to go to impress your guests.
When ordering a special meal, one can start with an "extravagant appetizer" that's valued over $6000, like the "Under The Sea," which is a plate of West Coast Oysters presented with a beautiful Mikimoto Akoya Pearl Necklace as a gift for your date. There is also the "The Submersible," featuring East Coast Oysters presented with a Luminor Pam 1024 deep-sea diving watch.
Other meals are made extraordinary with rolling carts for tableside cooking, serving, and even Cacio e pepe (twirling your pasta in a large block of cheese) by special request. When you visit Alla Famigilia, it's a whole experience that's completely customizable. Chef Jonathan says that's what really makes them stand out – the way they treat people, just like the name suggests, like family.
Although famous for their 28 oz veal chop, Alla Famiglia is also a popular seafood destination. The Seafood Diavola is heaven on earth and is just bursting with fresh seafood. The dish is made with South African Lobster Tail, Dayboat Scallops, Black Tiger Shrimp, Mussels, Crab, and Clams simmered in a spicy plum tomato sauce. Alla Famigilia's menu is all about indulgent food made from scratch with quality, authentic ingredients, like Mussels and Clams from the Mediterranean and fresh produce.
In Italian, the indulgent style of eating that Alla Famiglia is famous for is called "Ghiotta," meaning glutton style. This style is all about hearty portions, rich sauces, and making sure the meal includes a plethora of the most important Italian ingredients. Chef Jonathan also prepares his Black Grouper in this manner, with a macadamia nut crust, and smothered in a confetti of raisins, cherry tomatoes, onions, garlic, pignoli, and capers.
According to Executive Chef Jonathan, the menu extends through all regions of Italy and is rooted in his heritage, training, and travels. He has wanted to be a chef since he was eight years old, and started working in restaurants when he was 14. From then, he went on to the Pennsylvania Institute of Culinary Arts to study. Italian food has always been his forte, because his grandparent were from Italy, but he also enjoys cooking Latin American and French fare.
Even though he sticks to mostly Italian cuisine with Alla Famigiia's menu, an example of how he marries his Italian heritage with Provençal cuisine is the seared Diver Scallop dish featuring fois gras, Oyster Mushrooms, roasted shallots, and madeira wine sauce. Today, the cooking is mostly done by Chef Jonathan's protégé' and Chef de Cuisine, Mark McManus, who has been with Alla Famiglia for fifteen years.
Together they are planning a new and exciting fall menu that might include Rabbit, Pumpkin Ravioli, and Stone Crab Claws. We're so excited to see what they come up with. Look out for Stone Crab season, opening October 15th, and be sure to check in on the next "performance" at Alla Famiglia!