Heat up the cold Winter Months with Hawaiian Kanpachi

Winter solstice has passed and the days are growing longer. Winter is still upon us, but we can always dream about the warmer weather to come or a trip to that tropical paradise we've always wanted. In the meantime, Hawaiian Kanpanchi is the perfect fish to combat the winter blues and transport you to a warmer climate. Kanpachi is great grilled, seared, raw, and so many other applications for an appetizer or the center of the plate.
One of my favorite cuts of Kanpachi is the collar. They are very versatile and take on any flavor profile that you like.  I love to flavor them with Vietnamese ingredients which really allow the Kanpachi to shine.  For the collars, I like to marinade them in a mixture of cilantro, garlic, lemongrass, ginger, lime zest and juice, fish sauce, and olive oil. I let this marinate for a few hours to truly absorb all the flavor and then it's ready for either grilling, roasting, or frying. If frying, I like to coat the collars with a little rice flour or cornstarch to get a crispy crust. I then like to pair it with green papaya salad and a spicy lemongrass sauce.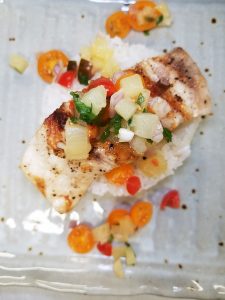 My other favorite way to chase away the winter blues is to grill Hawaiian Kanpachi. This fish has a great fat content which makes grilling an excellent choice. The meat stays succulent and moist and pairs well with tropical flavors.  I like to use a little olive oil, thyme, lemon zest, and lemon juice to marinate the Kanpachi. A charcoal grill gives the best flavor to the fish and I grill it to about medium temperature. A simple coconut basmati rice makes a beautiful accompaniment to the Kanpachi. A pineapple and kumquat salsa also adds some acid and heat to the mix to bring out the fantastic flavor of Kanpachi.
Hawaiian Kanpachi is a great menu item due to the versatility of cooking methods that you can use. Whether it is being served as a crudo or ceviche, grilled or roasted, or you are using the collars, Hawaiian Kanpachi is a perfect addition to your menu. The yield is very high and the Kanpachi works well with so many different flavor profiles and cooking methods that it is a sure hit for any menu. Let the Hawaiian Kanpachi transport you to somewhere warm during these winter months.