Seafood Down South: Our Favorite Southern Fish Dishes!

Happy National Southern Food Day! We're sure you're familiar with plenty of country classics by now: fried chicken, country-fried steak, biscuits and gravy, etc. But you may not be as familiar with some of the South's most famous seafood dishes! In this post we'll explore a few of the most delicious and creative seafood meals that the South has to offer.
She Crab Soup
Richly flavorful with a bisque-like consistency, She-Crab Soup is a local delicacy in the Carolinas. Scottish settlers are credited with the creation of this distinct dish, dating back all the way to the 1700's. The Blue Crab, abundant in the warm Summer waters of the Atlantic, served as the sweet backbone of the soup that the Scots were looking for. Female Crab Roe gave the soup a distinct orange color, as well as the "She" moniker!
Today, many variations of the soup exist, but the core ingredients are generally the same: Flour, heavy cream, a generous helping of butter, Worcestershire sauce, a dash of sherry, and of course Blue Crabmeat and Roe.  What does it taste like? The flavor profile falls somewhere between true love and Heaven. The tender Blue Crabmeat paired with the soup's sweet creamy broth creates an irresistible and layered flavor profile that will leave you dying for more!
By now you're probably dying to make a helping of this delicious soup, and we're happy to help! We have a tremendous supply of wild Maryland Crab Roe available, which will have you well on your way towards crafting the perfect bowl of She Crab Soup!
Fried Catfish
For years, people wouldn't touch the Catfish, and understandably so. There's no getting around it, with their slimy skin, oversized alien-like heads, and cat-like whiskers, these fish do not exactly scream, "appetizing." But eventually, our Southern companions got over their reservations and decided to bring the abundant Catfish to the table! And we're sure happy they did.
Fried Catfish has now become an All-Star when it comes to Southern Seafood cuisine. The thin, mildly flavored fillets are perfect for coating with cornmeal/flour and frying away. And once they're out of the deep fryer, serve them up with French Fries or hushpuppies for a delectable (albeit indulgent) plate! And most importantly, don't forget the hot sauce!
Check out this Fried Catfish sandwich with fingerling potatoes that our chefs at Samuels cooked up: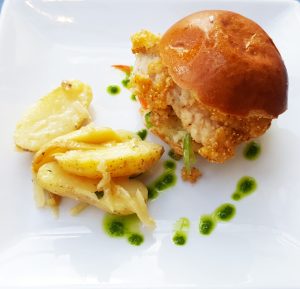 Seafood Gumbo
With Mardi Gras right around the corner, you may want to have a go at making Seafood Gumbo. And you came to the right place! On special for the rest of January, Samuels offers several of the key essentials for a delicious Gumbo. With Cooked Whole Spanish Crawfish, Gulf Princess Shrimp, and Jumbo Venezuelan Crabmeat all available on special, there's truly no better place to stock up on the Mardi Gras essentials!
Hugely popular in Louisiana, Seafood Gumbo is quintessentially Cajun. First referenced in the early 1800s, Seafood Gumbo is a delicious, thick Seafood stew with a spicy kick. This dish can be prepared in countless ways, so trying to narrow down one "true" recipe would be silly. But virtually any recipe will tell you: load that pot up with plenty of Crab, Shrimp, and Andouille Sausage. And like any Louisiana dish, it never hurts to throw in a helping of Crawfish!
We could go on for days about delicious seafood dishes that the South has to offer. Our Texas Gold Shrimp, sustainably raised in the USA, are a perfect choice for Shrimp and Grits! If you want to try your hand at a Creole Shellfish Ettouffee, reference our website's Shellfish Update under the "Products" tab to find your perfect Oyster, Clam, or Mussel! And if you're feeling particularly bold, you may want to use our Bayou's Catch Alligator Meat to make your very own Alligator sausage!
Be sure to call your Samuels agent or swing by Guiseppe's Market to pick up all you need to try your hand at these delicious Southern recipes. We look forward to helping you!