Martine's Riverhouse Restaurant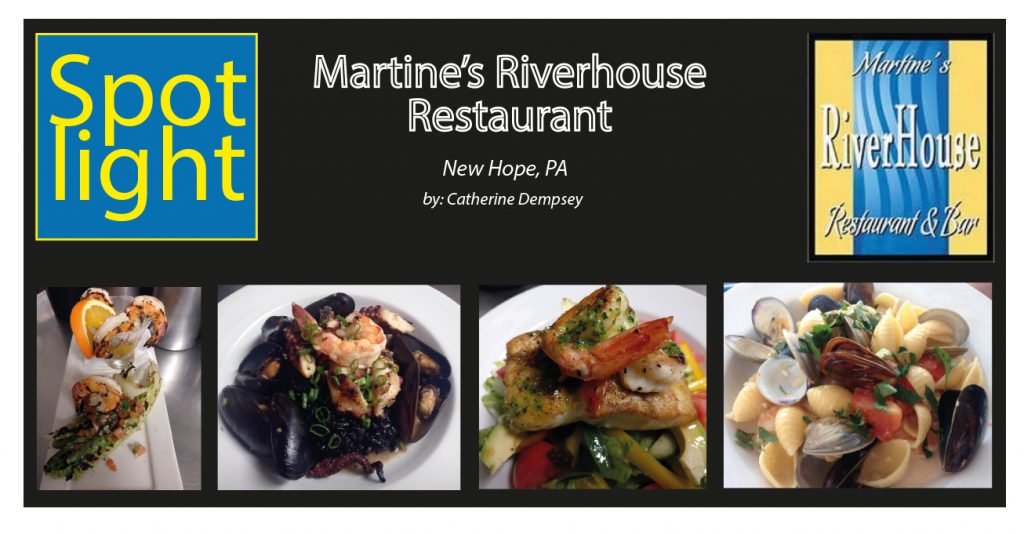 Martine's Riverhouse Restaurant
New Hope, PA
by: Catherine Dempsey
The town of New Hope in Bucks County, Pennsylvania is steeped in culture. A quick Google search brings on a seemingly endless mass of results, describing the area's history, art, notable residents, and an unbelievable amount of things to do. New Hope is quaint in an "old world" way, and this is especially apparent when you cross the bridge from New Hope into Lambertville New Jersey and realize that good things do in fact come in small packages. Suitably sketched as a tourist town, this little place contains no shortage of things to do, see, experience, and of course, eat. That's where Martine's Riverhouse comes into play. Situated just on the edge of the Delaware River in an adorable and homey barn-boathouse, Martine's is known for its scenic location, relaxed atmosphere, and obviously good New American specialties to keep you full.
Taking a step into Martine's Riverhouse is like walking into someone's open and welcoming home, hosted by Martine Landry herself who holds down the fort at the establishment. She has been keeping it cool on Ferry Street since 1980, saying she was attracted to New Hope's charm, evolution, and colorful history. Her location dates back to 1752, and the old bones of Martine's Riverhouse don't creak like one would expect – she completely restored the property in 2004. "New Hope has tremendous history, located here in beautiful Bucks County where I grew up on the Delaware River," Martine says. "New Hope is on the map and it has been for many years – people come for an assortment of reasons whether it's the theater, the art, the history, or the fun and experience. It's beautiful in all the seasons!"
Martine is a bit of an outlier in the culinary world. She says that she fell into the industry and lo and behold, fell in love with it. "It's a commitment, a relationship, and it's a matter of making it fun," she says. "It's a life's passion." Martine didn't attend culinary school, but the wonderful realm of food has always been attractive to her, saying it stems from her mother and her family growing up in Bucks County. Martine's mother, a French Canadian, exposed Martine to the culinary arts at a young age. In her early 20's Martine worked for a short time in a restaurant before taking on Martine's Riverhouse when she was 25. "I've learned a lot over the years that's for sure," she says with a laugh.
When you stop by Martine's Riverhouse for a bite, you can expect to enjoy your meal at your leisure in a relaxing, natural environment. Most importantly, the restaurant is focusing their efforts on true farm-to-table concepts of food, satisfying the needs of the type of diner who isn't in a hurry and just wants to sit back and have a drink and a good meal. Eating locally and organically grown food is of high importance to Martine's and their customers. "It's the best of the best," Martine says. The menu is eclectic and seasonal, representing everything from chicken to beef and duck, and naturally, some incredibly fine seafood. "Fish is so healthy and I think that's part of it," says Martine. "You can also get a great strip or a great filet or a lamb ragout. But I've had the Mussels and the Clams on my menu forever and I just can't take them off! We do serve a lot of fantastic seafood thanks to Samuels and Son."
Easily one of the most popular items on the menu at Martine's is the order of Thai Mussels, which come stacked with coconut, thai basil, ginger, curry, and lemongrass. The love for seafood doesn't end there, however. The Seafood Linguini would leave anyone drooling and it is served complete with Scallops, Shrimp, Lobster, capers, and marinara sauce.
Martine's has recruited a new chef into the building, Meagan Loos. She'll be holding down the kitchen while Martine and the rest of her staff keep customers happy and carefree – the spot is known for hosting a plethora of birthdays, anniversaries, engagement parties, and other heartwarming events. Martine can't seem to get enough of it. "My staff is so wonderful and friendly and accommodating," Martine says. "I think when you walk through the door I have the same feeling in my home that I bring here and it's a very friendly relaxing atmosphere. We want everyone to leave here with a happy experience."
For more information, visit MartinesRiverhouse.com.