The Bygone – Four Seasons Hotel, Baltimore MD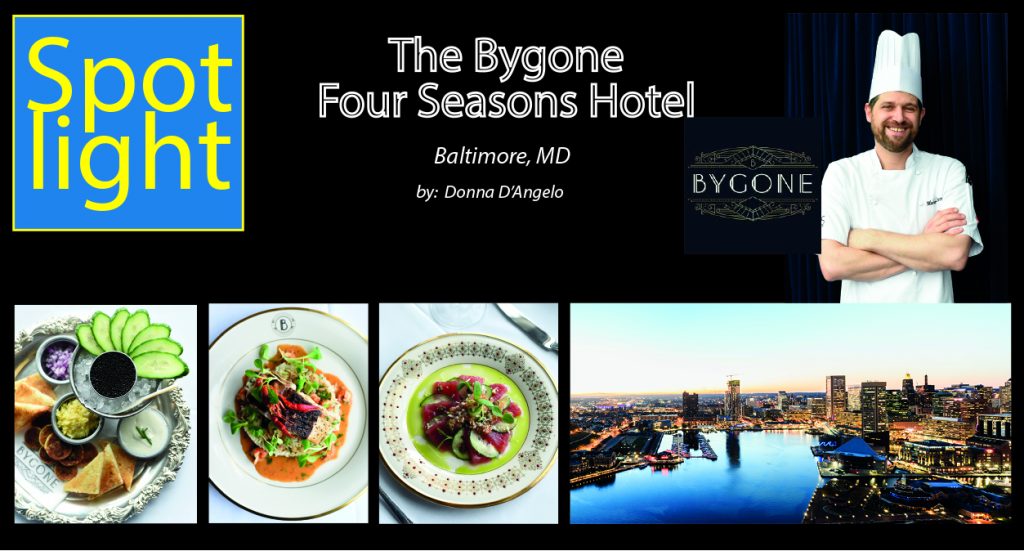 The Bygone
Four Seasons Hotel, Baltimore MD
by Donna D'Angelo
Baltimore's inner harbor, is The Bygone, a rooftop restaurant offering full sensory dining at its finest. A fusion of old and new, The Bygone reminisces of past eras while remaining contemporary. Stepping inside The Bygone is like entering a modern day version of an F. Scott Fitzgerald novel. The gilded décor and glitzy dress code transports diners to the glamourous days of the roaring 1920's. Open the menu and you'll see a nod to the 50's and 60's era with new twists on classic dishes inspired by Nouvelle cuisine. Behind the unique menu is Atlas Restaurant Group's Corporate, Chef Mathew Oetting, who's equipped with a classical French background and a binder full of vintage menus as inspiration. With this, he designed an old-style menu for the modern day pallet.
The Four Seasons wanted to add an American style grill to their dining options, and originally Atlas Restaurant Group had the idea of creating a "roaring 20's," prohibition themed space and menu. To accomplish this task, Chef Matt enlisted the help of his father, a research librarian at the Hayden Library at Arizona State, who put him in contact with culinary historians. As he dug further into his research, he found that as glamorous the roaring 20's were, the menus weren't filled with the same level of flair. They were quite literally very "meat and potatoes;" dining out just wasn't the focus at the time, and it wasn't until the dawn of Nouvelle cuisine after decades later that chefs started creating decorative, composed plates. Chef Matt had an idea: apply the roaring 20s concept to the restaurant's ambiance while offering a menu inspired by the classics of the 50s and 60s. Using over 40 menus from this time period as inspiration, he created the original menu for The Bygone.
One thing you'll notice about the menu at The Bygone is the abundance of classic French dishes. Through his research Chef Matt noticed that any reputable restaurant in the mid 20th century was helmed by a French chef. Being classically trained himself, Chef Matt was excited to recreate these dishes with a modern flair and fit for an American style grill. Chef Matt started as the corporate chef for Atlas Restaurant Group two and half years ago. The first property he opened was Loch Bar. He went on to open Ouzo Bar Boca Raton, and move to the Bygone last October. Chef Matt hails from the Culinary Institute and Le Cordon Bleu College of Culinary Arts. Before Atlas Restaurant Group, Chef Matt worked in kitchens in New York City and Miami under other classically trained chefs such as Laurent Tourondel and Scott Conant.
The vintage menu is separated into eye catching sections full of French classics, including a boxed out Dover Sole Meuniere. A whole section is dedicated to the luxurious Lobster, featuring seasonal vegetables and contemporary spins on traditional preparations. One of which is Chef Matt's favorite, the Lobster Vol Au Vent, which is a representation of a two-pound Lobster. He prepares the Lobster tail sous vide with herbs and clarified butter. The succulent lobster is then dressed with red vain sorel, and served along with puff pastry, a fricassee of the Lobster claw and knuckle meat, mushrooms, and asparagus. Then, just when you thought that it couldn't get better, a Newberg sauce is poured over top, tableside, right in front of your eyes.
Another show stopping section is the Caviar service, featuring three tiers of Canterbury Cure caviar. In true display of Gatsby style decadents, Sturgeon Osetra, Sevruga and Keluga are served with traditional accoutrements including creme fraiche, chives, shallots, house made potato blinis, brioche, and cucumber upon a bed of ice on a silver platter.
As the city of Baltimore gears up for its busy season, you can expect summer's star ingredients at The Bygone starting in late July. Look out for Heirloom Tomato dishes, Guinea Head in rotisserie, Lobster dishes recreated with even more summer veggies, and possibly a Venison chop. Get a sneak-peek at Atlas' upcoming event, Baltimore Glitz, on June 12th. I'm personally looking forward to the eclectic dinner entrees, which interestingly feature summer's most quintessential produce, strawberries and melons.
For more information about Baltimore Glitz and a full menu hosted at the James Beard House:
www.jamesbeard.org/events/baltimore-glitz