Plate Adornments to Adore This Valentine's

It's time for the Feast of the Saints and we know our chefs are working hard to serve meals that are divine. That's right, it's Valentine's Day – the second busiest day of the year for restaurants, right after Mother's Day. And while you're gearing up, we want to make sure you don't forget the details!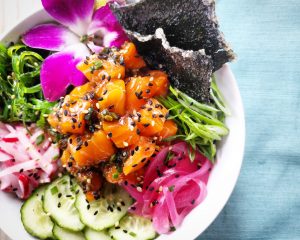 Valentine's Day is all about the wow factor. Everyone is expecting to be wined and dined with the most delicious and exciting food. And chefs know that presentation is key. Garnish play a significant role in the diner's experience because we eat with our eyes. Additionally, during this love fest, many pictures will be taken and shared between friends and couples. And of course, everyone will be Instagramming their dishes, so they have to be picture perfect.
This year, let Samuels be your one-stop-shop with our easy options that will make your plates shine.  Here are some options we carry that will adorn your plates and enhance both the presence and flavor of your meals.
While you may be familiar with some classic garnishes we offer such as Canterbury Cure Caviar, we also offer high quality, unique items that will really impress your guests. Our edible flowers for example, are on sale for the whole month of February.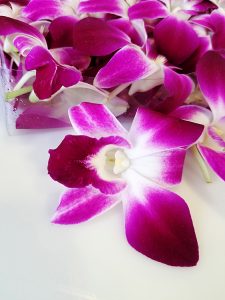 Edible Roses add a touch of romance to any dish whether sweet or savory. The beautiful and delicate, red roses are pristine and perfectly sized and shaped to add just the right amount of flair on your plate. They have an amazing, subtle fruit and floral flavor reminiscent of strawberries and green apples that is extremely versatile. This beautiful garnish will wow your guests whether it is candied or chocolate dipped, served simply as is, or used as a flavor enhancer.
Our Edible Orchids are another unexpected show stopper. Their stunning purple petals complement any dish with their flavor and presentation. Representative of love, luxury, and beauty, Edible Orchids will transport your guests to a romantic, tropical place during this cold winter. The flavor, reminiscent of cucumber and endive, will enrich your dishes and inspire you. Whether serving fried orchids or making orchid sauces and salads, your creativity will soar all the possibilities
T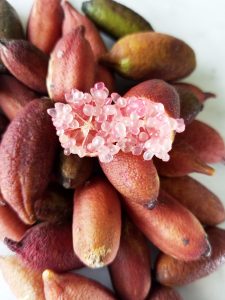 here are also fun citrus options that add a pop of color and a nice zest, like our Finger Limes and Japanese produce varieties like Yuzu and Sadachi. If lime is your main squeeze, shake things up with Finger Limes or Sudachi. Finger Limes, known as citrus Caviar, contain bursting beads of lemon-lime flavor perfect for topping any chef creation. Sudachi has a bright yellow-green flesh and a sour citrus flavor mix of lime and orange. Another fun twist is Yuzu. This tart treat is reminiscence of grapefruit and mandarin orange.
Other popular Japanese options include herbs and greenery like Shiso Leaves, Mitsuba, Daikon Sprouts, and Dried Seaweed. Shiso, also known as Obo, can provide an aromatic of cinnamon and cloves, a uniquely refreshing earthy, citrus, mint flavor, or simply a background for the main course. Mitsuba, or Japanese Parsley, has a rounder more delicate appearance than regular parsley with a clean chervil and celery leaf taste. It's a true delight beyond compare as a garnish or ingredient. Daikon Spouts and Dried Seaweed are other great options to help decorate the plate and enhance flavors.
Japanese Bonito Flakes will add umami as well as fun textural interest atop soups and main courses. These little wisps of dried, fermented Skipjack Tuna are used for their smoky, intensely savory, delicate fishy flavor. The flavor is often compared to anchovies or bacon, but it's much more refined than either. Another fun garnish is our Seabeans. Seabeans not only add a pop of green, but enhance the clean, ocean flavor of seafood meals and provide a nice salty crunch.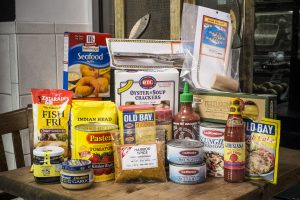 And don't forget we offer White and Black Sesame Seeds, Ginger, Wasabi, and tons of sauces to decorate your plates including White Truffle Oil, Soy Sauce, Eel Sauce, Kewpie Mayo, Kimchee Base, and Sriracha. We also offer beautiful cleaned and bleached Shells to serve it all in! Talk to your Samuels Agent for more information on our offerings beyond amazing seafood.