Pumpkin Spice and True North Nice

Fall is upon us! The trees are dropping their leaves and the rain is finally dying down. It's time to put on our Sammy's Hoodies and have a bonfire or two. But before that, let's head indoors and do a little fall cooking. Grab that pumpkin spiced latte and let's go. One of my favorite ingredients this time of year is True North Salmon. It's so easy and delicious whether it's raw, roasted, grilled, or steamed. But the amazing texture and taste can be elevated even further with masterful cooking techniques, flavors, and different cultural embellishments. True North Salmon is a great product that can really steal the show at any meal.  I, myself, love it both roasted and raw. It's even more of an experience to eat them side by side and get the contrast of textures and flavors.
Fall is just the perfect time for cooking because there is always such an abundance of fresh, seasonal produce, especially Mushrooms. I really like to feature both the wild and domesticated Mushrooms that Samuels carries this time of year.  My favorite roasted Salmon dish uses creamed leeks with bacon, Truffle, and roasted Mushrooms such as Chanterelles or Maitakes paired with True North Salmon. It's earthy, succulent, and great for a fall night that has a little chill in the air. This is also a perfect pairing with a nice pinot noir that can cut through the fat content and the earthy flavors of the Mushrooms and leeks.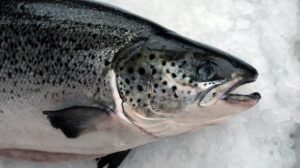 If you are looking for different applications True North Salmon is very versatile and especially scrumptious in raw dishes. Sashimi is always a crowd pleaser, but one of the best dishes is True North poke with pickled fall fruit.  I also love it sliced very thinly and paired with my favorite chili crisp, scallions, and crispy Salmon skin.  This is a party in your mouth. Spicy, fatty, and succulent it doesn't let anyone down. To top it off, I like to garnish with Seaweed and rice puffs to make an extra splash with the True North Salmon. Fresh Wasabi and our Daikon Sprouts will really give this dish an extra zing.
True North Salmon is at the top of my fall menu. It's one of the best products for entertaining your guests and your family too. The versatility and taste is so amazing that I use True North Salmon both in my kitchen and in my home. It's wonderful smoked, roasted, grilled, cured and especially raw. Ask your Samuels agent about making True North Salmon your go-to for your fall dinners. Maybe it's the color and the flavors of fall that compliment it so well, but True North Salmon is a great addition to any October meal.