Ducktrap River of Maine – A Man, His Dog, and His Trout

It all started with a man and his dog.
Des Fitzgerald loved to fish, and he would often bring his dog Caleb with him on all of his expeditions into the wild landscapes of Lincolnville, Maine. Along the Kendall Brook, Des found a pleasant patch of land and built a small bungalow for him and Caleb. For the love of Trout, he began farming the fish along the water's edge – it was here where Ducktrap River Fish Farm was born, named after the river into which the Kendall Brook flows. For this story, it's only the beginning of many long years of perfecting his product and making it that much more special, just like the relationship between Des and his fish.
Des started smoking his Trout with the help of a smokehouse at 4 x 4 feet. He installed a small stove buried into the ground of the smokehouse and began to forge his own smoked fish business, selling his smoked Trout to local restaurants and markets. Des' business grew with his love for the product. It was a match made in perfect harmony.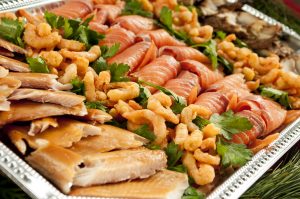 Using traditional European smoking methods, Des developed incredible-tasting smoked seafood products that continue to shine in the kitchen today – Ducktrap is thought to be the first company to smoke Mussels, one of the savory products offered by Ducktrap River of Maine. In 1990, Des purchased a mechanical pin-bone machine and an automatic slicing machine for his Salmon. In 1998, he purchased a kiln with its own environmental control system with the ability to manage the moisture within it, just one of seven that existed in the world.
The Salmon fillets are dry brined, lightly trimmed, and cold smoked in small artisanal batches. They are then seasoned by hand with a special blend of spices. The end result is an original variety of thinly sliced smoked Salmon, especially great for sandwiches. Our favorite: the Spruce Point Smoked Salmon, Pastrami-Style. With a little bit of a kick to thDucktrap River of Maine has an extensive list of smoked products, all of which have received wide acclaim by chefs for over three decades. Ducktrap's Spruce Point brand of smoked Salmon is to-die-for. It's a cold-smoked pre-sliced Atlantic Salmon of the highest quality and it's truly a culinary masterpiece of incredibly bold flavors.e taste buds, it needs to be tasted to be believed.
The Rainbow Trout Fillets are an experience to the palate as well. Smoke roasted and sustainably sourced, it is the most exquisite of all smoked fish and it is the center point of Ducktrap's rich history, from when Des and his little dog Caleb were fishing together back in 1978. The fillets are hot smoked gently to hold on to their natural juices and texture. The taste is delicate and ideal for those unfamiliar with smoked seafood. Ducktrap's Rainbow Trout Fillets are the perfect alternative to more traditional breakfast proteins and they really shine in an omelet. Available in Traditional flavor, Maple Glazed, and Lemon Pepper & Garlic flavor, there are several ways you can accompany the flavors with your own creativity.
Ducktrap River of Maine has a series of smoked Shellfish that wow guests time after time. All sustainably sourced, they make for an unforgettable smoked seafood platter paired with Ducktrap's Trout and Salmon. From Mussels, to Bay Scallops, to Shrimp, they have everything you need to make your guests full and happy. The Mussels are plump and amazingly succulent, and they are blanched after harvest to save their unique flavor. With Ducktrap's signature blend of Maine hardwoods and fruitwoods smoke, the full flavor comes in with every bite. The Smoked Bay Scallops are steamed almost immediately after being pulled from the water. They are then cold smoked with a custom-developed wood blend to enhance their all-natural sweetness. Their cold water Smoked Shrimp are especially great as well – they're cooked immediately after harvest and just mildly cold smoked.
From Des Fitzergerald's humble beginnings on the brook's edge in the thick of Lincolnville, Ducktrap River of Maine has stayed true to their commitment of quality and excellent taste ever since 1978, and they continue to showcase high standards in their catch and preparation just for you, the chef. Des Fitzgerald is regarded as a local hero to the people of Maine today, and it all began with the perfect combination of just three ingredients: a man, his dog, and his trout.