Putting Experience on the Menu: Café 2825, Atlantic City, NJ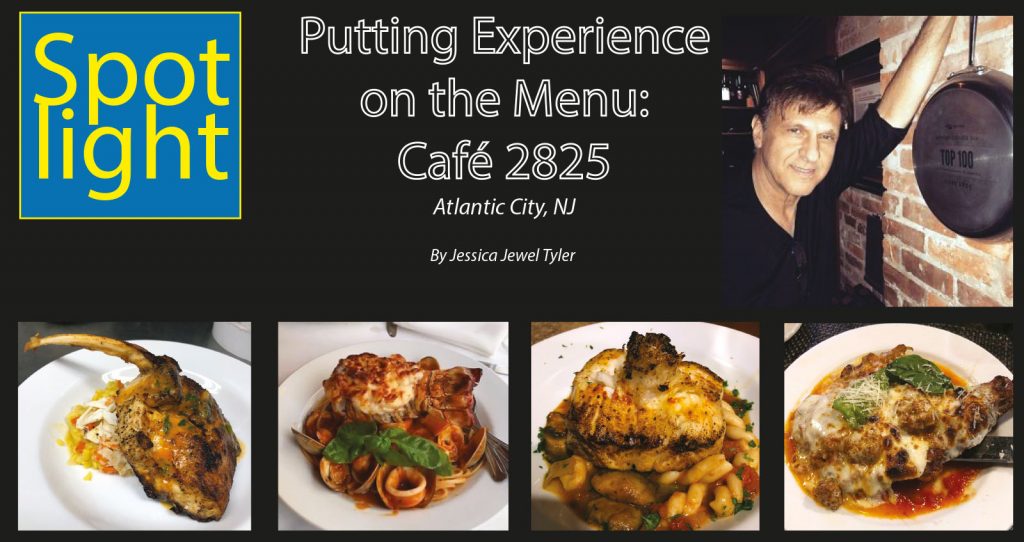 Putting Experience on the Menu:
Café 2825, Atlantic City, NJ
By Jessica Jewel Tyler
Outside of Italy, New York is one of the best places in the world to eat Italian food. That's exactly why Joe Lautato wanted to bring the Brooklyn-style Italian eatery over to New Jersey in 1982. At the time, this was a small niche, and a big risk. "It wasn't the best decision at the time, but it did work out for the best," Joe chuckled. With the financial decline of Atlantic City and the myriad of competition, Joe had his work cut out for him with Café 2825, but through it all he survived and found his way.
Standing out from the colorful shore businesses and hovering hotels, sits Café 2825, a building beaming with old world charm. Upon stepping foot into the narrow, intimate space you are instantly transported to the heart of Italian cuisine in The Empire State. The décor brings together the concept with simple exposed brick, aluminum quilted ceilings, and white table clothes. Stained glass and soft lighting also add a touch of romance to this cozy space.
Growing up in an Italian household in New York, Joe learned the significance of authentic food, but more importantly how creating environments and experiences are what bring people together and bring people back. A former biology major, Joe says he got into the business for the people. "You could be the greatest chef, but you have to love and understand the people," claims Joe. Joe understands that food creates memories, so Café 2825 has evolved to meet the needs of his guests. This is why Café 2825 literally puts experience on the menu.
Tableside service is nothing new, but Cafe 2825 kicks it up a notch with fresh polenta, Caesar dressing, and burrata style mozzarella (handmade right from the curd) prepared before your very own eyes. Diners also enjoy cacio e pepe twirled in a large wheel of tasty Roman Pecorino cheese and tableside whole fish. Part of the experience is also providing exclusive chef creations. Joe loves to mix things up by taking advantage of Samuels custom cutting program. Some of his favorite cuts include the Chilean Sea Bass osso buco, which is an extremely flavorful bone-in tail cut, and Swordfish "chops," that look like veal chops and utilize the best parts of the fish, like the cheek. Joe claims this piece is "as tender as butter."
"Because of the selection and service at Samuels and Son, we really get to do anything we want," grins Joe. And for Café 2825, the fish is the most important part of the menu, accounting for 70% of the sales. They do a lot of shellfish, roasting whole fishes, and other seafood that is traditional in southern regions of Italy. As someone who is 50% Sicilian and 50% Neapolitan, Joe focuses his menu on things like Rafols Baccala, Sepia, Octopus, Scungilli, Conch, Clams, and Cockles. "The biggest thing today in food service is to become too eclectic and create things that might not work. We use time tested ingredients and combinations," says Joe.
Perhaps that's why Café 2825 earned a place in Open Table's Top 100 restaurants in the country. Diners agree that bringing tradition together with amazing experiences creates a place where they feel at home. Their clientele is made up of a large group of regulars but since the added acclaim, reservations are a lot harder to get. Joe is grateful and is excited to "make new friends, but keep the old."
He credits his success to his staff, that "make his life possible," and his wife Ginny, who "does so much for the restaurant," that without her he'd "have to shut down immediately." Because of this, he plans to close for Christmas, giving his staff a much deserved break, and create food memories at home instead. And from the sounds of it, the Seven Fish Feast at the Lautato house will be amazing. Joe mentioned that he'd be cooking fried Smelts, Lobster Tails, Crab Claws, Clams, Mussels, and more for a full 48 hours in preparation of the big day.