Ristorante Pesto, Philadelphia, PA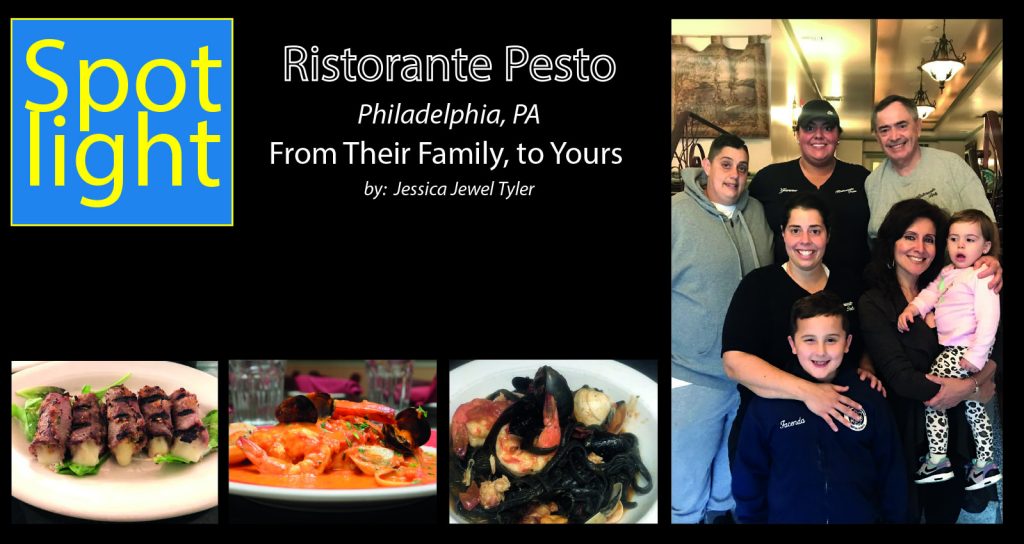 Ristorante Pesto
Philadelphia, PA
From Their Family to Yours
by: Jessica Jewel Tyler
"It's like coming home," says Concetta Varallo, also known as Connie, of Ristorante Pesto. The hallmark of a true Italian Restaurant is to be "treated like family," but here, the sentiment rings truer than ever before. At Pesto, every call is personally answered by a member of the Varallo family and every table gets a little appetizer before their meal. The food, the personal attention, and being surrounded by a huge, happy family, will make you forget that they aren't your own kin. In fact, people travel from all around the world to dine at Pesto and they feel like they never left their own dining room.
The design is classic, yet elegant and "green, like pesto." Connie's husband and partner, Chef Giovanni Vallo, also known as John, designed this space. The concept is simple – authentic, decadent meals served in an intimate environment from the Vallo family to your own. The passion and history however, are what make Pesto such a significant part of Italian dining in Philadelphia. For the past 17 years, this eatery has wowed every guest and earned an impeccable reputation, including "Best Pasta Dish" on Racheal Ray's Little Italy Showdown and a "#1 Italian Cuisine" Travelers Choice Award from Trip Advisor for the past five years.
Chef John has always held a fervor for food. Growing up in Montella, Italy as one of 20 siblings, he learned the importance of hard work and precision when it comes to satisfying meals. From a young age, he was always helping his family prepare large delicious dishes, whether growing and peeling potatoes, jarring hundreds of tomatoes for the winter, or stepping into the kitchen himself. This is when his passion for cooking developed and he decided to go to culinary school in Italy.
He brings fond memories of Italy into the kitchen by continuing the tradition of making meals by hand, from scratch, with only authentic Italian ingredients. In fact, Pesto has two pasta machines, to make the freshest pasta dishes you can imagine, like the currently featured pumpkin ravioli. He even pays homage to his hometown by using its most treasured ingredient. According to John, Montella, Italy produces 25% of the world's chestnuts and to honor this fact, he likes to feature a fried chestnut ravioli.
After culinary school, John moved to America and worked in bakeries, even opening his own, until he developed a flour allergy. There, John met his lovely wife Connie and they decided to open a restaurant together (Io E Tu,) get married, and have children. Today Pesto, runs in the family – even for the smallest children. Guests still remember the three little girls learning the ropes in the restaurant and often recount tales of four-year-old Maria cheerfully announcing, "Welcome to my restaurant, it's Italian."
Today they all have an important place at Pesto. After earning her culinary degree, daughter Maria finds herself in the kitchen, Gianna is also working on her culinary skills, and Christina is tending to the front of the house along with her mother Connie. Now they are training the third generation in a similar way and Connie says she's "so proud of the restaurant, family, and staff." There is a lot to be proud of – presently, the kitchen serves five pages of delicious meals and around 20 creative specials (which the wait staff recites daily, from memory) to a full house.
When asked how Pesto can have so many creative, well-liked daily specials, John said the inspiration comes from his mother's recipes growing up and also his more recent trips to Italy. He wants to showcase an approachable and realistic interpretation of Italian eating from the past and into the future. For instance, Chef John slyly nods to his upbringing with his mom's carrots marinated with balsamic, garlic, and herbs that are placed on every table, and that may never change, but he also highlights what's currently on trend on "The Boot." According to Chef John, right now, it's rigatoni (short, wide noodles,) gemelli (double-helix shaped noodles,) and bucatini (hallow, long noodles.)
Be on the lookout for some of these hand-crafted pastas that perfectly hold Pesto's popular bolognaise, gravy, or cream sauces, or try their award-winning, signature dish, Seafood Cavatelli, with Shrimp, Lobster, and Crabmeat in a rose' sauce. Whatever you order, you're sure to leave full and happy, just like after a big family dinner at your childhood home.