Riverwinds Restaurant, West Deptford, NJ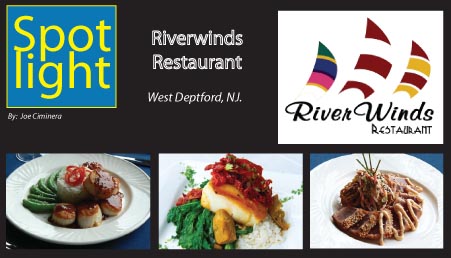 Riverwinds Restaurant, West Deptford, NJ
By:  Joe Ciminera
The name Riverwinds evokes many feelings in those who have dined at the staple South Jersey Restaurant.
Be it the magnificent view of clear blue waters seen through the dining rooms massive bay windows while enjoying a fresh meal, the cool breeze from the Delaware River engulfing the large outdoor deck while drinks are enjoyed in the company of friends, or the aromas from the kitchen, tantalizing the senses of diners, Riverwinds has a certain quality that keeps diners coming back.
Located in West Deptford, New Jersey, Riverwinds Restaurant must compete with the amazing restaurant scene in nearby Philadelphia and the destination dining of the Jersey Shore, Riverwinds must constantly stay ahead of the game, and they've been very successful in doing so.
Views and amenities can only carry a restaurant so far, and success ultimately comes down to food. Riverwinds offers an incredible menu of fresh items that are expertly prepared and plated. Serving lunch, dinner, happy hour and special occasion brunch, the menu at Riverwinds is as eclectic as it is delicious. The dinner menu features an incredible raw bar with delicious Oysters and other shellfish to get the meal started off on the right foot.
It should come as no surprise that a restaurant called Riverwinds has an incredible seafood menu. Cajun Rubbed Blackened Salmon, pan-seared Asian Ahi Tuna and the spicy, Crabby Pasta made with Jumbo Lump crabmeat are sensational and popular items. The Lobster Ravioli and Frutti Di Mare with fresh Clams, Shrimp, Mussels and Crab Meat are Italian delights that customers love at Riverwinds.
Riverwinds, while showing uniqueness on their menu, does an exceptional job paying homage to classics of the past. This can be seen in their table side preparations. They rotate the fish that are used for this unique presentation, and they offer two styles, lemon, olive oil and basil, or cherry tomatoes, olive oil, basil and roasted plum tomatoes in a Pomodoro style.
One of the biggest days of the year at Riverwinds is Mother's Day, and if you're still looking for a special place to take mom the menu at Riverwinds is unbeatable. Start off Mother's Day right with a Jumbo Shrimp Cocktail, Colossal Crab Cocktail or fresh Chesapeake Oysters. Seared Ahi Tuna also makes for an exceptional Mother's Day appetizer. The entrees take a page from the regular menu, featuring incredible seafood and premium cuts of beef.
Aside from the spectacular Mother's Day celebration at Riverwinds, the spacious accommodations also make it the ideal venue for corporate lunches, dinner banquets and wedding receptions. Riverwinds skilled staff goes to great lengths to ensure that everything runs smoothly, and the specially curated banquet menus have something for everyone.
Riverwinds does not just rely on their exceptional food to create an enjoyable dining experience. The service is absolutely impeccable and the view is simply incredible. The expansive dining room is encircled with large windows that look out on the Delaware River, and allow natural light to pour through, giving the restaurant the feel of an island escape. For those interested in getting even closer to the water, Riverwinds has a massive attached deck which is the perfect spot for enjoying cocktails or a meal on a beautiful summer evening.
For more information, menu and directions visit: www.theriverwindsrestaurant.com