Rooney's Oceanfront, Long Branch, NJ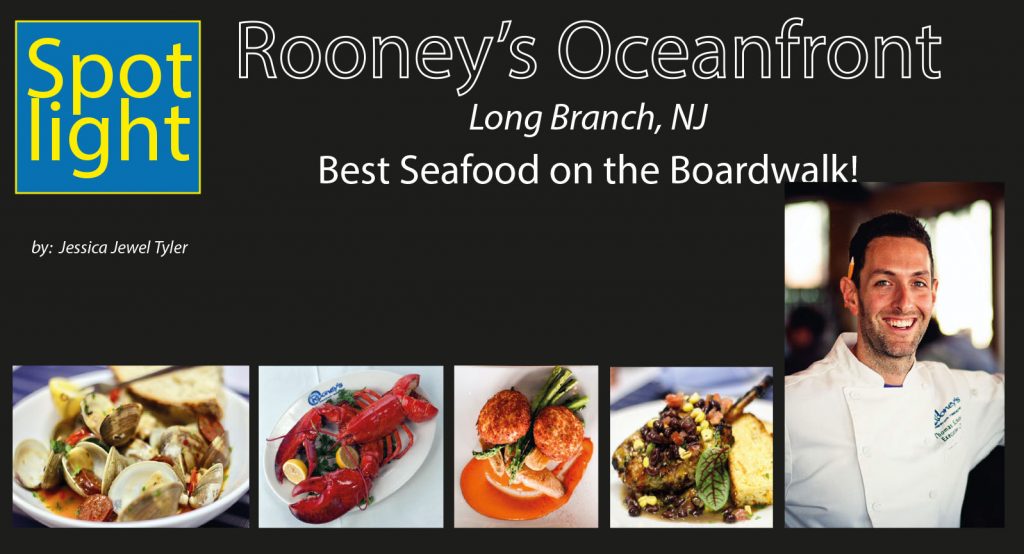 Rooney's Oceanfront, Long Branch, NJ
Best Seafood on the Boardwalk!
by: Jessica Jewel Tyler
Ready for a vacation? Rooney's Oceanfront in Long Branch, NJ, transports their guests to a seaside paradise. Located directly on Great Lawn Beach for almost 25 years, Rooney's is the oldest restaurant on the Jersey Shore. This shore staple combines beach resort elegance with a relaxed small town feel to create an easy, breezy impression. Features like subway tile, barn wood, and bright, clean décor give this restaurant a classic and comfortable charm. The 250 outdoor seats also give guests a close and personal view of the tranquil ocean, while the accordion windows along the entire front of the restaurant, connect the indoor and out, making sure everyone can catch a fresh ocean breeze from their seats.
With such a great view, you'll never want to leave. Luckily, Rooney's is known for amazing, creative cuisine with a heavy emphasis on fresh, quality seafood and large portions. According to the general manager, Darrell Wordelmann, "At Rooney's, 99% of people who come to Rooney's are eating seafood for dinner."
One of the most popular dishes is the freshly butchered in-house "Fish Board." With this option, guests can choose from Atlantic Salmon, Yellowfin Tuna, Shrimp, Mahi, Bronzino, Trout, and a local catch of the day, then choose a preparation of blackened, grilled, broiled, or pan-seared and lastly, a sauce like sweet chili and garlic, salsa verde, lemon butter, or angry sauce. Rooney's uses the Fish Board to give a nod toward local seafood, while also offering options guests may have never tried before like Barramundi, Tilefish, and Norwegian Wolfish. It's amazing that such a high-volume restaurant can offer this level of customization in addition to the amount of fantastic seafood options.
Rooney's chef, Thomas Schoborg, says they "walk a tightrope between classic shore food and more modern takes on seafood." This means, it's not exactly the same menu you'd expect on the Jersey Shore – sure, you can still get Crabcakes, but these are made with a delicate corn flake crust, instead of panko, and baked, rather than fried, to add lots of crunch without a greasy, heavy feeling. Additionally, they are served with grilled asparagus, fingerling potatoes, and red pepper aioli to round out the meal.
Rooney's also offers many options on their menu that they say "bridge the gap between classic and fine dining," for example; the Flounder stuffed with Shrimp, Viking Village Scallops, and Blu Crabmeat, served with a citrus herb butter and wild rice blend; and Chef Thomas's famed pecan crusted Rainbow Trout, served with brussel sprouts, and a cranberry apple cider gastrique. There's also a myriad of pasta options, including "Fisherman's Cioppino," with pan-seared Mahi, Clams, Shrimp, and Mussels atop linguini in a tomato broth, and the restaurant's classic, "Lobster Mac-a-Rooney," with Lobster cream sauce, Maine Lobster Meat, parmesan, and mozzarella cheese.
Also worth mentioning, is Rooney's "Angry Lobster," made with a 1 ½ – 3-pound Lobster, deconstructed, pan-seared, and then oven roasted and finished with garlic, basil, red pepper, and Olive Oil. Although there are a lot of places to get Lobster on the shore, Rooney's is the home of the Angry Lobster.
The inspiration for some of these Rooney's specialties focus a west coast beachy feeling with an Italian or Mediterranean touch. However, Chef Thomas prints new menus every day and there isn't much restriction. Chef Thomas is a classically trained chef from the international culinary center in NY, but from his childhood in Georgia, and many travels to Louisiana, he has become passionate about cajun cuisine and culture. He says, in Louisiana, "you can get a great food at a gas station. Because they really care about food." This passion still influences a few dishes he's introduced like the chargrilled local Oysters, Shrimp and grits, and a spicy gumbo dish, called Low Country Creole, with Shrimp, Scallops, and Salmon. Chef Thomas enjoys opening up guest's palates and minds, he even gives the sous chefs freedom to express themselves and their cultures as well. For instance, one of Rooney's chefs is Dominican and has featured everything from empanadas to jerk spiced Monkfish on the daily specials.
This is very fitting since Chef Thomas got into cooking because he enjoyed getting people excited about food, not just the customer, but the whole staff and community. Rooney's also holds local cooking classes and "chopped-style" cooking contests to share their passion and celebrate food. Look out for their upcoming event on May 5th, "Cinco by the Sea-o."