Rose Tattoo Café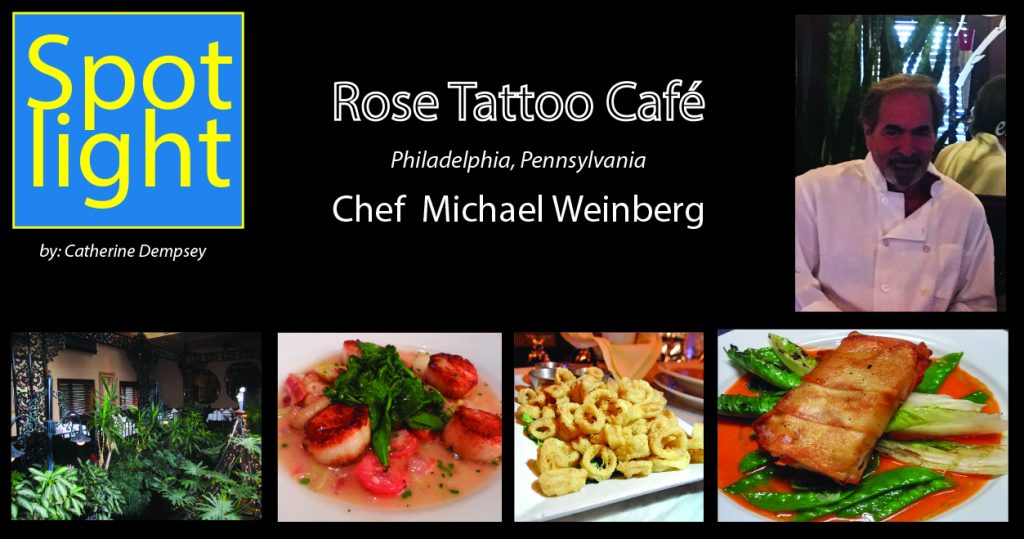 Rose Tattoo Café, Philadelphia, PA
Chef Michael Weinberg
yourself in a floral abyss. The spot has been a one stop shop for romantic dates since 1989, and for good reason. Inside the old Victorian establishment, you'll find a breathtaking abundance of flowers to set the mood. But, it's the food that has customers and couples alike coming back time after time. Heading the menu is Chef Michael Weinberg, who took on the restaurant with his wife Helene, and they've continued to thrive in Philadelphia to this day.
The Weinbergs have been working together since they were just teenagers mowing lawns. Chef Michael would do the lawn care while Helene handled the money and scheduling appointments. Chef Michael began cooking in his father's restaurant, the Lodge at 17th and Sansom, when he was 17. The ever-inseparable couple continued to work together here, where Helene would manage the register. When Michael began to get interested in cooking, he asked his father about going to culinary school, but his father told him he would learn everything he needed to know simply by working the line and sponging up all the information he needed to be a great chef.
Buying the pre-existing Rose Tattoo Café was a natural and obvious move for the couple. The two have continued to shine, and took ownership of the restaurant with Michael on the line and Helene handling the floor and business duties. "She's great," Chef Michael says. "She's really my partner. She takes care of half of everything from the office to payroll and managing suppliers. She understands."
Such a unique place on the corner of 19th and Callowhill requires unique and amazing dishes, and the Rose Tattoo Café has this down to a science. The menu, which changes about three times a year, is a genuine reflection of style and taste, and it's as impressive as it is delectable. The Rose Tattoo Café also has weekly specials, so there's always something new to taste. They make their own pastries and pasta, and they have dessert specials every week to show off their sweet tooth. What's really popular is the seafood side of the menu. "We sell a lot of fish," Chef Michael says. "Chilean Sea Bass, Salmon, lots of Shrimp. We're doing Halibut now wrapped in potatoes with roasted red pepper sauce. It's a beautiful dish and we've never done it before. That's what keeps it interesting."
Try the Shrimp Tagliatelle – sautéed Shrimp in a white wine lemon garlic sauce are tossed with house made tagliatelle pasta. You won't be disappointed. If you're in the mood for something a little lighter, take the Chipotle Grilled Shrimp & Watermelon Salad with Romaine lettuce. It's tossed with grilled corn, cucumbers, tomatoes, red onion, tequila lime vinaigrette, and topped with tortilla chips. Delicious! The Rose Tattoo Café has even more impressive dishes, like the pan roasted Salmon with Crabmeat, Shrimp, creamy chardonnay sauce, and sautéed vegetables.
The atmospheric spot has an amazing selection of seafood dishes that are to die for, and it's all perfect for a night out on the town with old friends, or an evening with that special someone in your life. Either way, you're going to have a pleasant experience with dishes that you'll never forget in a setting that is picture perfect (especially for those who love Instagram).
At the end of the day, Chef Michael is absolutely sure of one thing: you're only as good as the people you surround yourself with. "It's not just me and Helene," says Chef Michael. "The entire team is great. I have people I've been working with for 30 years. My sous chef Alan has been with me for 22 years. My manager Lauren has been with me for 8 years. Sammy has been a great supplier, and I've been doing business with him for 30 years. It takes a lot of people to make a good restaurant."
For more information, visit rosetattoocafe.com