Chef Khai Vu, District One Kitchen and Bar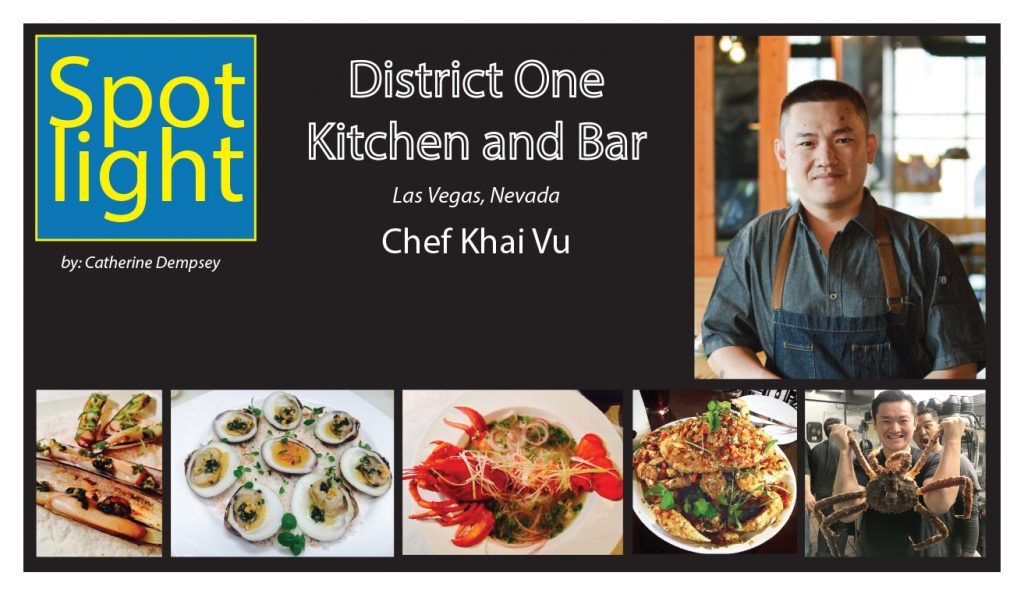 Chef Khai Vu, District One Kitchen and Bar
Las Vegas, Nevada
by: Catherine Dempsey
Vietnamese food. Born in Ho Chi Minh City, he moved to the U.S. with his family at age 11. He spent decades helping his family run the popular restaurant Pho So 1, eventually becoming head honcho of the kitchen. In deciding to make big moves, he saw an opportunity to showcase his personal tastes in a restaurant of his own with influences from Vietnam, China, Japan, Thailand, New York, Las Vegas, and Los Angeles. His response is District One Kitchen & Bar, an airy urban-chic space with ridged metal ceilings and an excellent sound system – a chic change from the common casual Chinatown spaces.
"After I left Vietnam, I came to Las Vegas and my dad opened a restaurant so I grew up in it," says Chef Khai. "I used to go after school and help him with the restaurant after my homework and slowly but surely it grew on me." Chef Khai's parents had their own way of running things, so he decided one day that he wanted to open his own restaurant. "District One [in Vietnam] is a melting pot," he says. "It's a place where everybody goes for dining and nightlife and it has all kinds of cuisine. So that's why I brought that to Las Vegas. We want to make food for everybody."
Chef Vu's first love and passion has always been food, which he says is the reason why he "can't stop eating." His family has honed in on his love for food, with his grandmother's cooking as his early inspiration. When Chef Khai isn't manning the kitchen, he's out and about traveling the world and trying as much food as he can. "I love to travel," he says. "My restaurant partners and I try things and see what we like, and what we don't like. We cook at home, we invite friends over, and we narrow everything down to our concept. Learning from others and making our own version is where we get our inspiration."
The District One menu is immense and varied – there are plenty of items to choose from for those who are pho connosieurs and those who are unfamiliar with the traditional Vietnamese dish. One such elaborate and over-the-top pho dish is the Original Whole Maine Lobster Pho, which comes complete with (you guessed it) an entire 1.5 pound Lobster, Lobster pho broth, and rice noodles. Fit for a king, of course. "As you can see, I love Lobster," Chef Khai says with a laugh. "If you go to a place and there's a ton of sauce on a Lobster, or on Razor Clams, it takes away from the flavor of the ingredients. When you can get fresh seafood, great ingredients, you can't go wrong with it. That's the flavor you want to showcase. The freshness of it…it's so good!"
Another staple is the grilled Aioli King Crab Legs with spicy aioli and cilantro, another mammoth dish that is bound to have you rolling out the door. Chef Khai has a slew of Oysters to try, including Blue Points and Kumamotos to name a few. The small plates are equally delicious as the main entrees. District One has the Shrimp Skewers, which you can order with deep fried togarashi or get them grilled with sea salt. There's also the grilled Whole Squid or the fried Calamari which comes with a spicy aioli.
Chef Khai's favorite part of the job is the feedback he gets from his customers. "Seeing them happy, and to see a customer's body language and know that they're happy with their food means a lot to me," he says. "I look out the kitchen window and see a big smile, and that feels good." More than 80% of Chef Khai's staff at District One have been with him since the day the restaurant opened. He's been able to watch them grow, get married, and buy houses. "That to me is success," he says. "It's all about how well everyone around me does."
For more information, please vist www.districtonelv.com/home/