Standard Tap and Johnny Brenda's, Philadelphia, PA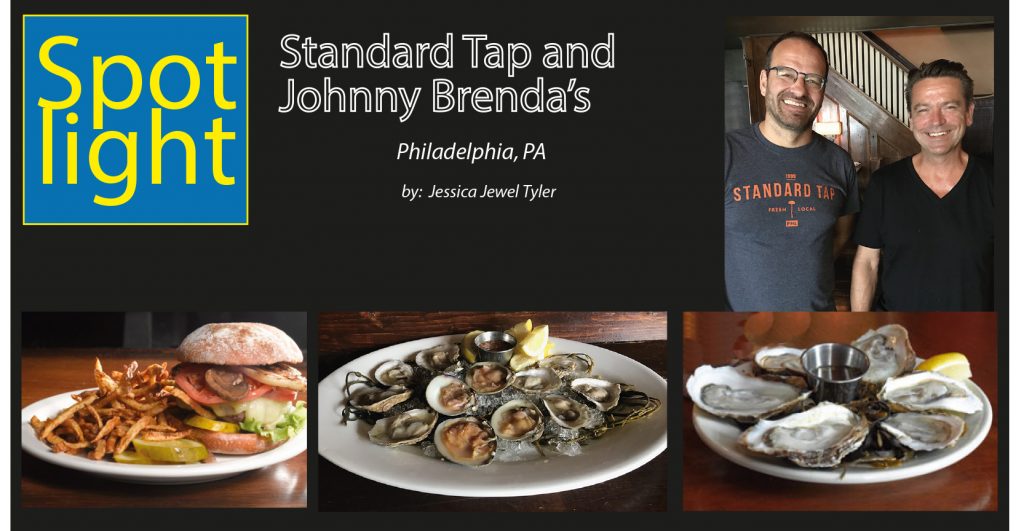 Standard Tap and Johnny Brenda's, Philadelphia, PA
by: Jessica Jewel Tyler
Paul Kimpton and William Reed, masterminds behind, Standard Tap, Johnny Brenda's, and now The International, have built more than three bars, but three communities. The former brewing buddies are highly accredited with the "beer-naissance" of overlooked areas in Philadelphia. In fact, Standard Tap is widely exalted as Philadelphia's first gastropub. Johnny Brenda's has quite a bit of acclaim as well. This Fishtown landmark, bar, restaurant, and music venue is a Philadelphia mainstay and was featured in "Creed." Paul and William met while learning to brew beer, but their endeavors became more about enriching the community through local and sustainable food while and creating community hangouts.
When Standard Tap opened, New Year's eve, 1999, Northern Liberties was ushered into a new dawn. This once overlooked area is now a district full of art, food, and a lively community. The beautifully renovated building stays true to its original charm – it's clear that it's a neighborhood bar. There are no televisions or knick-knacks on the walls, instead gas lanterns and chalkboards "decorate" the pub. Far from the corporate chain of gastropubs with "flair" added just for the sake of "flair," Standard Tap, delivers extra "oomph" in the food and in the spontaneity of ordering from a chalkboard.
The food is what Paul Kimpton refers to as "casual but special." Chef Joel Mazigian crafts up daily surprises. This is fitting to the original English style gastropub. The selection is based on timeless American food with fun inspiration from other cultures such as Indian and Japanese. Some favorites include Mussels in a spicy curry sauce topped with sausage, and tempura fried Softshell Crab sandwiches.
Chef Joel studied cuisine in Rhode Island, and cooked in Germany and New Zealand before refining his skills with, Iron Chef, Jose Garces. Paul Kimpton says Joel Mazigian has a lot of skills including charchuterie and butchering. The butchering skill is important to Kimpton because they often buy whole fish and use every part. According to Kimpton, what doesn't get used, get composted for the herb garden on Standard Tap's roof.
Johnny Brenda's is an entirely different beast. Kimpton refers to this as a couple different businesses in one. Walking into Johnny Brenda's your immediate attention goes to the raw bar full of colorful shells, oyster shucking, and an open kitchen with chefs grilling Octopus. Then a bit further Is your normal bar and upstairs, a bustling music venue. The chef here, Paul Lyons, is essential to creating the exciting menus using the original "casual but special" style. The menu is also based on American fare but with more rustic and simple sides of German and French cooking.
Kimpton and Lyons especially highlight aspects of "Farmhouse" – or even "Seahouse." "Philly is a great town for high quality seafood – largely due to Samuels," says Kimpton. Currently Chef Paul Lyons is working on a Seafood Tower consisting of Lobster, Tuna Tartare, and a Shrimp and Clam ceviche, topped with an Oyster variety. This is just the kind of "special" food the owners look forward to serving.
Located in the heart of the area Kimpton and Reed helped create, The International, now in its infancy, has hopes to tie the different styles of cuisine together. Kimpton is fascinated with how different cultures enjoy food practically and socially. He gives examples of how Middle Eastern and Mediterranean cultures make interesting food that doesn't require forks and everyone shares with friends and neighbors. Kimpton wants the International to be that experience. The downstairs will stay true to the casual dining they built a foundation on, while the upstairs will feature a more "cocktail" style menu.
The atmosphere of Standard Tap, Johnny Brenda's, and now The International, is telling of the atmosphere the owners want to create in the community – and it goes beyond the three bars. The owners work in the community as well. They have helped create parks, farmer's markets, and most importantly education of local, sustainable food. In addition to taking staff to learn about local famers, Kimpton works with the Philadelphia Food Policy Advisory Council to help initiatives involving urban farms, composting, and recycling for Philadelphia restaurants.