Susie Kim – Ardmore Seafood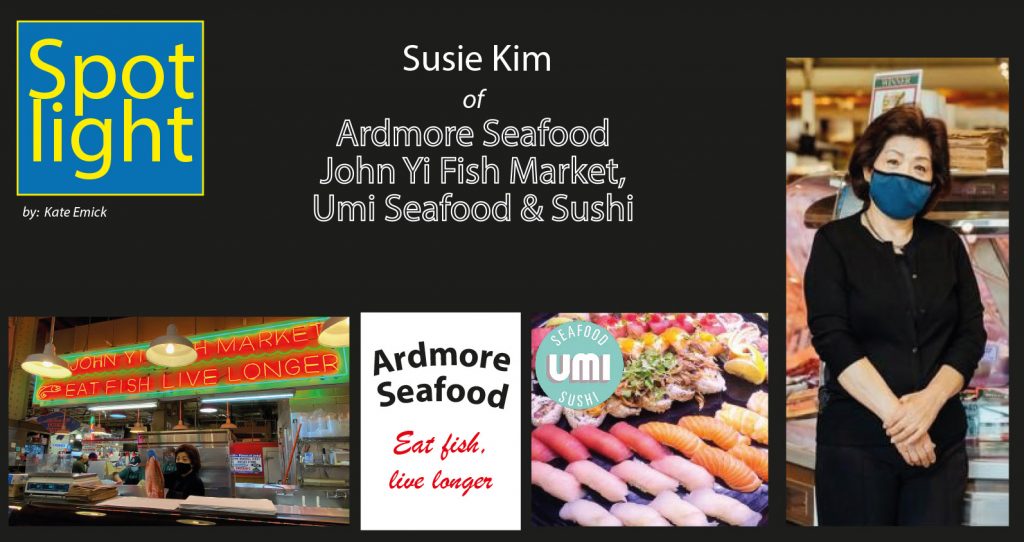 Susie Kim of
Ardmore Seafood, John Yi Fish Market, and Umi Seafood & Sushi
by Kate Emick
Susie Kim, owner of John Yi, Umi Seafood and Sushi, and Ardmore Seafood, grew up in Seoul, South Korea. There, she attended university and studied piano. She was 28 years old when she came to America as a single mom and continued her passion as a piano instructor, but she quickly realized that she would not be as successful in America teaching the piano as she had been in South Korea. So she began to think about how she could continue to work for herself and be more financially independent. She noticed that someone at the Reading Terminal Market was selling a fish business. She didn't know anything about fish, but that didn't stop her from buying the business.
Last year, Susie and Chef Yong Kim opened Umi Seafood and Sushi in the Reading Terminal Market. Susie met Yong Kim, of Bluefin restaurant, 10 years ago; they would talk regularly about life, and soon they began to talk about business. Yong wanted to open a sushi store in the Reading Terminal Market, and Susie's customers wanted her to try making sushi. Yong didn't have experience running a fresh seafood market, and she didn't have experience making sushi, but together they made the perfect team.
Susie has been working with Samuels Seafood for the past 30 years. Over time, she has watched our variety of products really expand. Today, we have an incredible product selection from around the world. Salmon and Shrimp are some of the most popular products she uses, but her customers are always looking for something new, and Samuels understands that. Susie loves working with the D'Angelo family. She says "They are always so nice to me and have been working with me since the very beginning." Today, she works with Sammy Brown and he understands that her customers' needs are different.
Susie describes her favorite fish as a very thin white fish, like Dover Sole or Flounder. She prepares it simply with salt and pepper, then pan-fries it. She says it's easy, delicious, and healthy. She often likes to serve it with vegetables and a little homemade Teriyaki sauce.
For the holidays, Susie isn't sure what to expect this year because 2020 has been so unpredictable. Christmas is a crazy time of the year for her fish business, last year they had really long lines with nearly 1,000 people waiting to buy seafood. Susie says, "I'm not sure we will have those long lines this year, but I hope our retail business will increase with the restaurants being closed."
Over the years, Susie has created lifelong bonds with her customers, they are like family to her. When she came to America, she didn't speak any English and at first, she could only ask "how many?" or "how many pounds?", yet the customers always understood her, and she understood what they wanted. Susie is proud of her success in the seafood business. She has always lived by the motto, "Eat fish, live longer," and she believes that now more than ever.