Gracie's 21st Century Café, Pine Forge, PA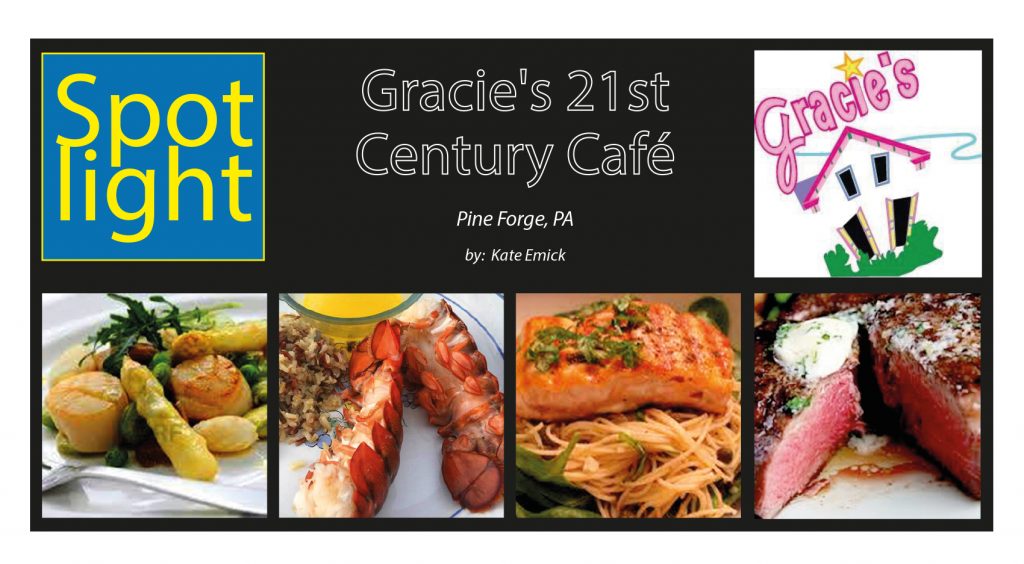 The Art of Cooking!
by: Kate Emick
Gracie's 21st Century Café dates back to 1985 when Chef Gracie Skiadas returned from living in Greece to the community where she grew up and purchased the building where the established café stands today in Pine Forge, PA. After coming back to where it all started, Gracie had hopes of giving the community something different, and that's exactly what she did. With many years of success, Gracie's 21st Century Café celebrated their 32nd year anniversary this past November.
Gracie describes herself as a frustrated artist and puts her inspiration from her art into the different food she creates. She loves a good presentation and appreciates the immediate feedback she receives from the customers when they see their dishes arrive at their tables. Gracie says, "The food industry has been changing since the '80s, and I wanted to make a contribution." Gracie's passion for cooking and art are showcased all in one.
Gracie's 21st Century Café serves an extensive selection of dishes that features seafood, chicken and beef, vegetarian options, and even duck in the colder months. A popular dish that keeps customers coming back is the pan-roasted Wild Striped Bass, served with butternut squash and wild mushroom risotto and finished with sautéed Chanterelle mushrooms. A second popular dish, called "Fusion," is a combination of Mussels, Clams, Shrimp, and Andouille sausage, giving it a little spice, and without a doubt is a must-try.
Some other dishes that are customer favorites at Gracie's 21st Century Café are Filet Mignon, Charcoal-grilled to your preference, and served with a béarnaise sauce. Grilled Bacon Wrapped Shrimp is another delicious appetizer Gracie is known for. The Shrimp is wrapped in Applewood Smoked Bacon, Charcoal-grilled, and served with a Horseradish Cream.
Samuels has had the pleasure of working with Gracie's 21st Century Café for over 20 years. "I trust Samuels. Everything I order is unbelievably fresh. I really like the wild-caught selection they have," says Gracie. In particular, the customers love the freshly shucked Oysters that are on the menu daily.
This year has been challenging for everyone, especially the restaurant industry, but Gracie emphasizes the best thing to do is keep a positive focus. In 2021, Gracie says she is looking forward to "A healthier environment, leadership, and people coming out to enjoy dining again." Gracie continues to stay optimistic by focusing on her customers and her employees.
In an effort to keep the community safe during the COVID-19 pandemic, Gracie's 21st Century Café menu is available online for takeout options along with curbside pick-up options. Gracie's 21st Century Café wants to keep pushing forward and serving all their customers with the food they know and love; to keep everyone healthy during these unprecedented times.
Gracie's Café is a restaurant like no other. What makes them stand apart from other restaurants is that Gracie and her Sous Chef, Andy, spend their time at the café overseeing even the finest of details. Gracie says, "It's not fast-food, and that's what sets us apart." Not only does Gracie want customers to enjoy the food they are eating, but also the moments they spend with family and friends.
Gracie is honored by her guests, and with one unique experience, she now has a slogan she goes by at the café. "It's fresh, natural, gourmet dining with a hint of decadence," was created by a guest, which is a line that she is very proud to share.
Be sure to check out everything Gracie's 21st Century Café has to offer at gracies21stcentury.com