The Churchville Inn

The Churchville Inn
By: Zachary Blumberg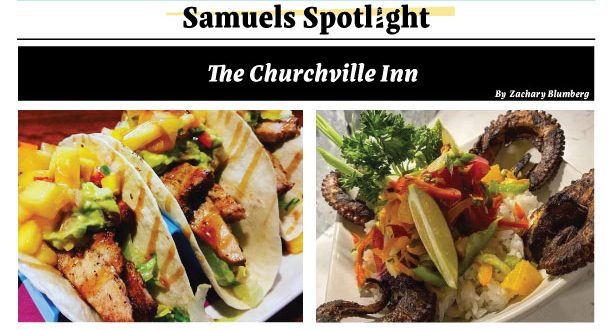 Food is family, and for over 30 years, that is what The Churchville Inn in Southampton, Bucks County, has been all about. Andrew Wallace is the current owner and a third-generation member of the Wallace family, who have owned and operated the restaurant since its opening in 1985.
Celebrated for their barbecue, The Churchville Inn's seafood dishes are also worthy of acclaim. Take your pick from jumbo lump crab cakes, Cedar plank salmon with asparagus and mushroom risotto, or tuna tataki (sashimi grade tuna served with Napa slaw and a citrus-based soy sauce) to name a few. The Churchville Inn also provides a constantly rotating selection of specials. These specials include seafood and non-seafood dishes, and one such standout is the Cajun classic, Shrimp Étouffée. Churchville's recipe calls for onion and an array of peppers for a little bit of spice, all brought together with a Cajun shellfish sauce. The restaurant has also created specials like pretzel-crusted mahi-mahi with coconut Basmati rice, and spinach.
The Churchville Inn's menu truly has something for everyone, and the warm ambiance of the restaurant provides the perfect backdrop to enjoy dinner or brunch on the weekend. It's easy to see why The Churchville Inn has stood the test of time and is such a beloved spot in the community. Thirty years of great food in a fun atmosphere can't be wrong.